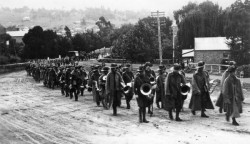 By MELISSA MEEHAN
SIX months before the start of World War I, 3000 citizen soldiers arrived in Lilydale for combat training.
Now 100 years later, a celebration of their time here will be celebrated at the Lillydale Lake on Sunday 9 February.
The celebration will be marked with a plaque and storyboard sign at the lake, and will be one of the first celebrations of the centenary of Anzac Day in the Yarra Ranges area.
A Federal Government grant of $5200 to go towards the celebration has been announced exclusively to the Mail by Casey MP Tony Smith.
"It is an extraordinary episode in our local history," Mr Smith said.
"And it is the first of many grants to commemorate the centenary of Anzac Day in our area.
"The unveiling of the plaque and storyboard will mark the start of the important centenary commemorations and raise awareness of how Lilydale was involved."
The 3000 soldiers came together on land, where Lillydale Lake is now, for training including company and battalion drills, musketry practice and a mock battle at Mount Mary near Coldstream.
Many of those who attended the training camp as officers and soldiers later went on to be well known and successful in their military careers.
Major General Sir John Monash was one of those men, and often spoke of his time at Lilydale.
It is believed to be the most important event in his pre-war military career.
Between 2014 and 2018 Australia will commemorate the Anzac Centenary, marking 100 years since our nation's involvement in World War I.
The Anzac Centenary is a milestone of special significance to all Australians.
The World War I helped define Australians as a people and Australia as a nation.
The Anzac Centenary will remember not only the original Anzacs who served at Gallipoli and the Western Front, but commemorate more than a century of service by Australian servicemen and women.
For more on local celebrations see page 3.