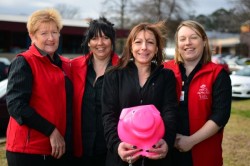 By JESSE GRAHAM
THE annual Very Special Kids' Piggy Bank Appeal is coming around again, and Healesville RSL is calling for the community come on board and help.
The RSL's family fun day for the Piggy Bank Appeal will be held on Saturday 13 September in the car park at the RSL, with a number of children's attractions.
A mobile animal farm, jumping castle, fairy floss, sausage sizzle and market stalls will all be at the event on the day, but Healesville RSL manager, Suzanne Serra, said the venue needed people to come on board.
She said the RSL had raised just under $10,000 at last year's event, raising more and more each year, but that they were still low on stallholders and musicians for September's event.
"Every year, we've done better, so we'd like to do better – but we seem to be struggling this year," she said.
Ms Serra urged people to come along and support the event, and that all profits would go to Very Special Kids, which supports the families of children affected by life-threatening conditions.
"They're hoping to improve the quality of their lives, while the kids are still with us," she said.
She said that, when the big day comes around, she would like to see a number of musicians busking at the event, as well as market stalls from different shops or restaurants in the community.
Pete the Pig, a mammoth pink piggybank, may also make an appearance at the event.
For more information on holding a stall or performing at the family fun day, call Suzanne Serra on 5962 5017. For more information about the Piggy Bank Appeal, visit www.vsk.org.au.