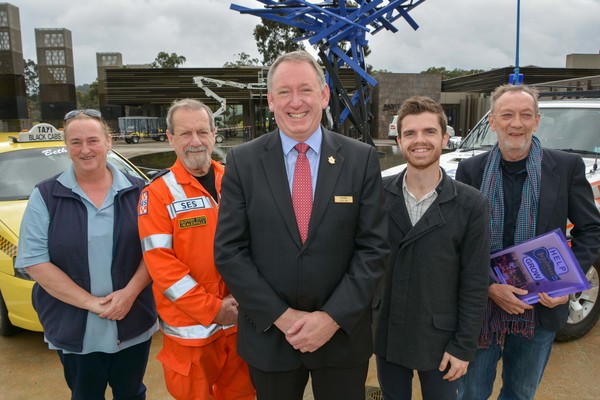 By JESSE GRAHAM
HEALESVILLE community groups have been bolstered by thousands of dollars' worth of grants from the RACV Country Club which were handed out at the end of August.
Healesville SES, Worawa Aboriginal College, Liberty Family Church and Healesville Music Festival were announced as this year's recipients of funding under the country club's Good Citizen Program.
The program, according to general manager Mark Lucas, aims to support projects, community groups and initiatives in communities such as Healesville.
Mr Lucas and representatives from some of the recipient groups gathered at the country club on Friday 28 August for the cheque handover.
Liberty Church community associate Joel Hawting said the group will use $2200 from the program to purchase a trailer and tools to clean up people's gardens.
"We do a lot of backyard blitzes, helping out families that are struggling in the community," he said.
"It'd be good just to have everything in one place."
Healesville SES's Geoff Stott said its $4000 would go towards reconstructing the SES's depot shed to accommodate its new, larger, response vehicle.
"We've got to chop off part of the shed and rebuild it so it's taller, wider and bigger, so we can have all of our children under one roof," he said.
Healesville Music Festival organiser Michael De Oliveria (SP) said the group's $3000 would be used to promote the festival and subsidise its free events.
Healesville Social Enterprise Taxi's Jenny Ashton said the country club had supported the taxi in funding and support during the group's fundraising for a maxi taxi, which was now closer to being a reality for the town.
Mr Lucas said the program has helped a number of community groups in the past, including the Healesville Sanctuary, which had its lyrebird aviary upgraded last year for Healesville's 150th anniversary.
The aviary was built more than 50 years ago after the RACV added a shilling to its annual membership to raise £15,500 for the construction.