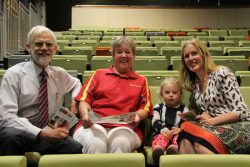 By Kath Gannaway
THREE films by Iranian director Asghar Farhadi will feature in the 2017 Healesville Mini Film Festival on Sunday, 5 February.
The mini film festival, hosted by Yarra Ranges Film Society, is a unique concept that has in its short history proved successful in bringing significant and connected films by a single director to the screen.
Society president, Keith Wade, said the three films on offer this year – About Elly, A Separation and The Salesman, are arguably Farhadi's best so far.
Mr Wade says Farhadi rates as a giant among contemporary film directors.
"He possibly ranks alongside Alfred Hitchcock in terms of his influence on other directors of the time, but with quite a different genre," he said.
Farhadi's work focuses on the lives of ordinary people in family situations under the stresses that can put pressure on the relationships.
"It's something we can all relate to," Mr Wade said.
"These are films of drama and psychological tension seeking a resolution."
The final film, The Salesman, was shown at the 2016 Melbourne International Film Festival and as yet has not had a public release in Australia.
Healesville is offering the first chance to see this film since the Melbourne International.
Adding significantly to the enjoyment and understanding of the films, renowned film critic, Paul Harris from 3RRR Film Buffs Forecast, will introduce and offer comment on each film.
Session times are 9.45am About Elly (Iran, 2009, PG) followed by the lunch break at 11.45am. A Separation (Iran, 2011, PG)starts at 1.10pm followed by The Salesman (Iran, 2016, rating to be advised) at 3.45pm.
Tickets are available on the morning, but to be sure of a seat it's wise to book on line at www.culturetracks.info or purchase tickets in advance at The Memo in Healesville or The Arts Centre in Warburton.
Ticket prices are $33 for the three films, or $14.50 per film.
For more information visit www.yarrarangesfilmsociety.com.au.