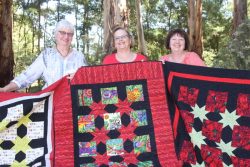 By Kath Gannaway
Quilt lovers of all kinds will have two days to indulge in the annual Patchwork Collections Friendship Group Quilt Show at Coldstream this coming weekend.
The show will be held on Saturday 18 and Sunday 19 March among beautiful gardens, with a huge variety of quilts for sale and the group's famous Devonshire teas to enjoy.
Group member Pat Biggs said the event would raise money for quilt materials such as fabric, wadding, backing and threads, all of which are transformed by group members into amazing quilts for patients at the Royal Children's Hospital.
The quilts, which are made as part of the Victorian Quilters Snuggly Quilts Program, are designed to appeal to boys and girls of all ages, including teenagers, who love having their own quilt, and who own them for life.
The program donates between 160 and 200 quilts to the Royal Children's Hospital each month.
Visitors will be able to take part in a raffle for a beautiful quilt and quilters can purchase fabric for half price from the trading table.
The Patchwork Collections Friendship Group Quilt Show will be held at 7 Maddens Lane, Coldstream, from 10am to 4pm each day.
For more information, call Pat on 0418 993 428 or Anne on 0417 017 067.