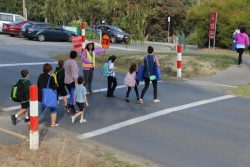 By Kath Gannaway
Yarra Ranges residents, including school principals, parents and teachers, are being asked to help shape the future of school crossings in the shire.
The crossing supervisor program is undergoing its first review in 30 years over the next two months.
Yarra Ranges Council's executive officer for emergency management and community safety Corrine Bowen said the school crossing program had experienced significant changes in pedestrian usage, the enhancement of road infrastructure standards, issues with attracting and retaining crossing supervisors and staffing isolated crossings.
"The review is to determine how the program can meet the future needs of the Yarra Ranges community," Ms Bowen said.
There are 105 school crossings across the municipality, staffed by 125 supervisors, at a cost of $1.28 million annually, of which $359,000 is contributed by the State Government.
Submissions close on Friday, 24 March at 5pm. Email to scsreview@yarraranges.vic.gov.au with the "School crossing supervisors program review" in the subject line.