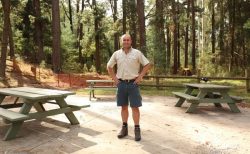 By Derek Schlennstedt
Popular Yarra Ranges picnic area, Donnelly's Weir, has re-opened to the public following months of clean-up work after last year's severe storms.
The storms which affected the Yarra Ranges in October 2016 brought heavy rain and strong winds that brought down a number of trees and destroyed Donnelly's Weir picnic shelter.
Badger Weir and Maroondah Reservoir were also among those affected by the storms which saw 120km/h winds batter the Yarra Valley.
Both Maroondah Reservoir and Donnelly's have since re-opened; Badger Weir still remains closed to the public and was one of the hardest hit by the storms.
Parks Victoria Area Chief Ranger Yarra Ranges, Conrad Annal, met with the Mail on 15 March to show the extensive work that had been required to re-open Donnelly's picnic area.
Visiting the site, five months after the storms, visible signs still remain.
The picnic shelter which was destroyed by a tree and was unable to be recovered has since been removed, with plans to replace it in the future.
Sections of the fence also require replacing, with temporary safety barrier mesh set up.
Mr Annal said that the clean-up work had been extensive, with excavators and crews working to remove hundreds of fallen trees both along the road leading to Donnelly's and at the picnic area.
"The storms last year caused significant damage and it has taken months of hard work to assess sites and carry out work to clear debris and re-open tracks," he said.
"Large excavators were used to remove stumps and help with the removal of the shelter, chainsaw crews and bobcats were utilised to remove many of the trees which had fallen over the access roads,
"Then we also had to fill in root and stump holes and level it off," he said.
Luckily the bridge and the weir were both unharmed by the storm and the relaxing and peaceful location is now open for visitors to come and enjoy.
The majority of the facilities still remain and despite the removal of the shelter there are still picnic tables, toilets and barbecues for visitors to utilise.
Several tracks leading off from Donnelly's have also been cleared of debris and re-opened.
Condon's walking track, Mount St Leonard track, and the walking track between Maroondah Reservoir and Donnelly's Weir via the Maroondah Dam Wall are among those which have been re-opened.
Popular walking spot Morley's track between Fernshaw and Dom Dom Saddle has also been opened.
Mr Annal said that Parks Victoria was pleased to re-open Donnelly's Weir picnic area and the tracks surrounding it and thanked the community for its patience during the clean-up.
"After months of hard work it's great to welcome visitors back to Donnelly's Weir. It's a popular picnic spot and a unique community asset, he said "
Mr Annal urges people to come and enjoy the location, but added that people should respect the park and take any rubbish home with them.