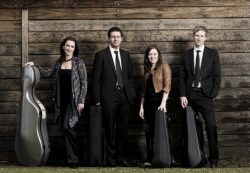 By Kath Gannaway
Formed at the University of Melbourne in 2003, Tinalley String Quartet has risen to world-wide acclaim as one of the finest string quartets of its generation.
Tinalley, named after the landway that runs through the university campus, will perform at Arts Centre Warburton on Sunday, 30 April, as part of the Yarra Ranges Council's Classical Tracks program.
Acclaimed for its addictive sound and intuitive music-making, the quartet will perform Beethoven – String Quartet No.10 in E-flat, Op.74 'Harp' and Dvorak – String Quartet No. 12 in F, Op.96 'American'.
With Adam Chalabi on first violin, Lerida Delbridge on second violin, Justin Williams on Viola and Michelle Wood on cello, their credentials are as impeccable as their music.
They have collaborated with world-renowned artists, been mentored by many of the world's finest quartets and have performed throughout Europe, America, Canada and Australia to critical acclaim.
First prize at the 9th Banff International String Quartet Competition and Grand Prize at the 2005 Australian Chamber Music Competition are among their many achievements.
The afternoon will feature an intimate pre-show talk at 1pm, leading into the 2pm concert, with an afternoon tea meet and greet with the artists following the show.
Under 26-year-olds are free when booking through Yarra Ranges Council's A Minor Tix Offer.
Bookings 1300 368 333 or culturetracks.info.