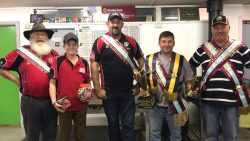 By John Wood
Each year in April, the Woods Point Gun Club recognises the wonderful support of the Warburton and Yarra Junction Community Bank Branches by holding the Community Bank Gold Cup competitions.
With an excellent turnout, this was definitely a shoot to remember.
The fun started with the Single Barrel Eye Opener where Phillip Desmond – AA, 10/10, Trevor Ewert – A, 9/10, Phillip Woods – B, 8/10 and Peter Lang and Steven Bedggood – C, 9/10, all claimed their share of the cash prize.
The main event was 60 mixed targets, comprising 15 targets each of single barrel, double barrel, double barrel points decision and continental; a varied and enjoyable mix.
A potential score of 90 was the goal.
Mid-80s scores were coming in thick and fast until Mick Ward posted 87 and became the shooter to beat; Don Rhodes, Phillip Desmond and Trevor Newman all returned 86/90 but to no avail.
Mick Ward won the Gold Community Cup outright, 87/90.
After the shoot-offs, the grade winners and place-getters were: AA Grade – Ward 87/90, Desmond 98/102. A Grade – Rhodes 88/90, Daniel Chinn 94/102.
In B Grade, Phillip Woods took the sash 83/90 from Geoff Hill, 81/90.
C was a hard-fought win for Ron Press 100/114 from Bedggood 98/114.
Junior shooter Patrick Kirley took the Junior prize 76/90.
In conjunction with the Community Cup, all shooters who had won a Championship or a High Gun in 2016 competed for the 2016 Champion of Champions sash that Ward easily won with his 87/90.
To complete the day there was the Community Bank 20-target handicap event.
Trevor Ewert was the only perfect 20/20 score to win the sash and a metre added to his handicap as well.
After a short shoot-off, John Winters took second place 22/23 from David Frazer 3rd, 21/23 and Ron Press 4th, 19/21.
The Community Bank High Gun resulted in a shoot-off between Rhodes and Newman, with Rhodes winning 140/150 from Newman 139/150.
It was a very successful day with fair, cool weather, great prizes and trophies, good tucker and lots of noise and laughter.
Thankyou to the Warburton and Yarra Junction Community Bank branches for your strong support of our club.
The club's next shoot is the Howqua River Championships on Sunday 28 May, starting at 10.30am.
Call in and see what clay target shooting is all about.