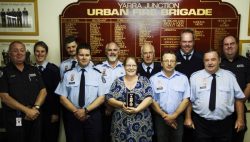 By Kath Gannaway
The Country Fire Authority (CFA) recognised the contribution of Yarra Junction CFA's volunteers at the brigade's AGM on 19 April.
Eight members received CFA service awards in recognition of the time and dedication they have dedicated to the CFA and to the Yarra Junction community with that contribution ranging from five years to 55 years' service.
Yarra Junction Captain Kate Lamb proudly introduced her members to District 13 Operations manager David Renkin who presented the medals and certificates, and to Operations officer Colin Brown.
The recipients were Frank Colverson – 55 year medal; Barry Teklenburg – 35 year medal; Catherine Branson and Jason Duck – 20 year medals; Justin Hall – 15 year medal; Alex Maurici – 10 year medal and Steve Spoor – 5 year certificate.