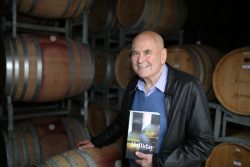 By Derek Schlennstedt
When it comes to choosing a wine to accompany your meal, there's only one book that can help decipher the riddle, and with over 700 pages of various wines and their respective flavours, James Halliday's Wine Companion has become a wine bible.
His most recent book the 2018 Halliday Wine Companion was released on 2 August at the Halliday Wine Companion Awards where once again the Yarra Valley shone.
The Valley led Australia's winemaking regions at the fifth annual Qantas epiQure Halliday Wine Companion Awards, and pre-eminent wine critic James Halliday crowned single-vineyard estate Mount Mary as Winery of the Year.
Yarra Valley-based Dappled Wines was also named Best New Winery and Boat O'Craigo received the Dark Horse award.
Third-generation winemaker Sam Middleton said he was making sure Mount Mary "shines brighter than that of any of the 174 wineries in the Yarra Valley" and he took advantage of a superlative 2015 vintage to secure scores of 97 and above for all four wines in the classic portfolio.
Meanwhile, Best New Winery was presented to Shaun Crinion of Dappled Winery who submitted wines for review in the Halliday Wine Companion for the first time, despite several years of working in the region.
Dark Horse of the Year was awarded to little-known producer Boat O'Craigo, run by the Graham family with influential winemaker Rob Dolan behind the wines.
All the awards were based upon the reviews in the 2018 Halliday Wine Companion book, which feature more than 1200 wineries and around 6840 individual wine ratings.
Mr Halliday said that his 12th edition of the book included by far his most in-depth reviews, and said that Yarra Valley wines were some of the best in the country and he expected them to improve over the next few years.
"I am really proud of this edition, my 12th, and love that Australia is returning to produce the classic varieties of chardonnay and shiraz, with pinot noir the rising star."
"The Yarra Valley is only about making very good to great wine; it's far too difficult here to make ordinary wine," he said.
The 2018 Halliday Wine Companion has been available to purchase island-wide from Thursday 3 August.