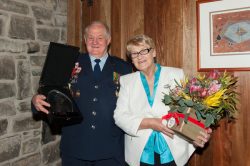 By Wendy Williamson
They don't come more community-minded than Ken Reed AFSM.
The lifelong Mt Evelyn resident has served as a member of the local fire brigade since he was barely in his teens.
He already holds a prestigious Australian Fire Service Medal, a well-deserved honour, and at the local brigade's recent awards night Ken received an award for an amazing 60 years of active fire-fighting service.
"I'm happy to be doing something for the community. Community is what is important," said Ken, humble in his acceptance of the public acclaim.
Much to his surprise and delight, members of Ken's family, including children and grandchildren, attended the awards presentation, in recognition of the event's significance.
Ken joined the CFA as a 14-year-old in 1956 and became an officer in 1961. Since then he has held a variety of officer roles, including Mt Evelyn CFA Captain for 28 years.
He was appointed Group Officer for the Lilydale District Fire Brigades Group in 1975 and then in 1983 Group Officer for the newly formed Melba Group.
Since 2006 he has been Group Officer for Maroondah. His role is mainly administrative these days, but it includes running major fires. He has certainly seen plenty of these over the years – locally, across Victoria and interstate.
He remembers 1962 as a particularly bad year, with fires all over the state, including at Mt Evelyn, where 48 houses, mainly belonging to holidaymakers, were lost.
1968 was memorable for the fires at Warrandyte, there have been numerous fires in the Dandenongs, and of course Ken was involved in fighting the big fire at Mt Evelyn a week before Ash Wednesday in the 1980s and more recently the Black Saturday conflagration.
Ken was an active member of Rotary for 10 years, a member of the Lilydale Cemetery Trust for several years and a shire councillor from 1991 to 1995. However, it is to the CFA that he has given most of his community service.
"It is one of the best things you can do for the community. You are there when they really need you," said Ken, pointing out that the CFA is called upon in all sorts of emergencies, not just to fight fires.
Sixty years after he started with the Mt Evelyn CFA Ken is still going strong, with no plans to hang up the boots just yet.
"I'll keep going as long as they'll have me," said this amazing man.