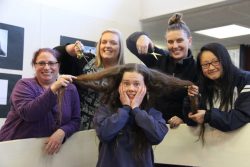 By Kath Gannaway
"Hi, I'm Hannah, I'm 16 years old and I'm going to be shaving my head to raise vital funds for Dr Thy Buntha, a vet in Siem Reap, Cambodia."
That's Warburton student Hannah Mahoney's introduction to a crowd-funding campaign which aims to raise $3000 for Dr Buntha.
She goes on to tell the story of the 'superman' vet who single-handedly runs the Ouk Hok Sy Veterinary Clinic … "with limited resources but lots of heart and determination."
Hannah will be shaving her head on Thursday, 7 September at the Koha Community Cafe dinner in Yarra Junction.
With just over $2000 raised, the push is on to reach her goal.
She said she had wanted to shave her head for a long time and decided at the start of the year to do it for a cause.
Hannah was among a group of UYSC students who went to Cambodia last year, but it was through a friend of her family that she heard of Dr Buntha's untiring efforts to help the animals and their owners.
His passion for animals, and his generosity towards their owners touched her heart.
Many of the animal lovers in his region are poor and often travel a long way to see him. Sometimes, he doesn't ask for payment, knowing they cannot afford it.
"I have been passionate about animals for my entire life, so this is very important to me," she said.
Donations can be made through the link https://www.gofundme.com/hannah-shaves-for-cambodian-animals or go along to the Koha Cafe at the Yarraburn Centre (next to the football ground) in Yarra Junction at 6pm on Thursday to support Hannah and make a donation in person.
Hannah will donate her beautiful locks to Variety, an organisation that provides wigs to children who have lost their hair.