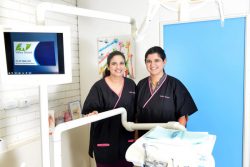 Valley Dental has been open for two years and is a family practice run by sisters Dr Rupali Prabhu and Dr Sonali Prabhu.
The practice features a team of friendly and passionate women who are focused on providing a positive outcome for patients and their families – they also have a full understanding of all dental needs and provide appropriate tailor-made treatment to suit.
The dedicated team pride themselves on providing compassionate and professional services to all families in the region offering general dental treatment, including build-up of worn down dentition, check-ups, cleans, fillings, extractions, root canals, root removals, mouthguards, bleaching treatments, crowns and bridges as well as referrals to a specialist dentist if required.
Dr Sonali Prabhu said they enjoyed providing the service for the community.
"We find the Yarra Valley a very friendly and welcoming place," Dr Prabhu said.
"People are helpful, friendly and a pleasure to work with."
Valley Dental's nurses are also local, experienced and are well versed with the community's needs.
"We have a team of professionals who enjoy working with the community to provide affordable dental treatment catered to the client needs," Dr Prabhu explained.
"We treat patients of all ages, from tiny tots to the older patients."
Valley Dental accepts all private health insurance funds and provides Medicare bulk billing for children aged two to 17 years for eligible patients from $700 to $1000.
Having completed two years in Wandin, Valley Dental would like to thank the community for their continued support. As a special offer, check-up cleans and X-rays are currently $160, and check-up cleans and in-chair bleaches are $400.
Customers are invited to visit Valley Dental's new refurbished premises at 6B/2 Union Road, Wandin North (next to the Wandin Pre-School at the top of the shopping centre). For details call 5964 2129.