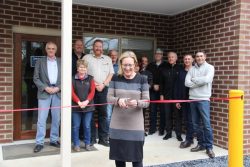 By Kath Gannaway
After almost two years of vital but largely hidden infrastructure improvements, Warburton Holiday Park celebrated their achievements with the opening of their new visitor reception and kiosk centre.
The building replaces the tiny space that greeted visitors over many years with a spacious and functional building which also includes a top floor of accommodation for the owners, Simon Edwards and David Pratt and their families.
The building was officially opened on Wednesday, 13 September, by Eildon MP, Cindy McLeish.
Following a tour of the building, Mr Edwards welcomed guests including Ms McLeish, Yarra Ranges O'Shannassy Ward representative Cr Jim Child, Yarra Ranges Council CEO Glenn Patterson and Warburton Advancement League president Jeff Gill.
Mr Edwards said a lot had been achieved in the 646 days since he and David took over, including a change of name from Warburton Caravan Park.
"It's been an important time for us to reflect on what we have been achieving here," he said.
"We have been really trying to pull together our vision of what we would like this caravan park to be and what a great tourist asset it could be for the area."
He said there had been a flurry of activity over the nearly two years, with upgrading essential below-ground infrastructure as well as two new toilet blocks, a new camp kitchen and security boomgates.
The guests' new reception building represents the major investment so far, providing better facilities for visitors and for staff.
Mr Edwards thanked his builders Brett Ramsay and Scott Vlasvelt, who he said had overcome a number of overlay challenges designed to deal with both flood and bushfire.
Mr Pratt said opening the new reception was something they had looked forward to and said they were now also looking forward to the development of the adjoining Warburton Recreation Precinct which will provide another drawcard to that part of Warburton.