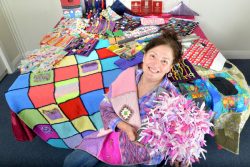 By Wendy Williamson
The Yarra Valley craftswomen behind the Fiddle Rug Exhibition take pride in saying that theirs is an "ever-diminishing exhibition".
Visitors to this display of beautifully hand-crafted sensory items are encouraged to take home "a gift of love".
Seville Community House has already held two such exhibitions in recent years and given away as many as 700 items.
The next Fiddle Rug Exhibition will be held at Mont de Lancey Historic Homestead from 18 to 29 October.
The aim of the exhibition is to give pleasure to seniors with dementia and children and young adults with intellectual disabilities.
Far from the 'Do Not Touch' message promoted at most art exhibitions, visitors to the Fiddle Rug Exhibition are invited to stroke the exhibits.
"Touch can have a calming effect or provide comfort in some other way," said Fran Snowdon, who is co-ordinating the exhibition with Glenice Hopes.
As well as rugs, on show at the Fiddle Rug Exhibition will be cushions, boards and much more. Interesting textures, such as buttons and beads, faux fur and felt, is what they have in common.
Local craftswomen have been getting together at Seville Community House each Monday to make the colourful items which will shortly be on show. Others from across the Yarra Valley and beyond have been making items at home.
"It's absolutely amazing seeing the delight in the faces of the seniors and children who come to the exhibition once they realise that they can take home their favourite items," Fran said.
Mont de Lancey is at 71 Wellington Road, Wandin East. Opening hours are Wednesday to Sunday, 10am to 4pm.