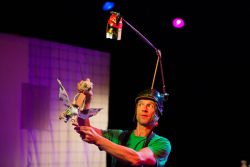 Yarra Ranges Council is offering engaging activities, performances and workshops at affordable prices for students and families of the community during the upcoming school holidays.
Performance highlights include a magical adventure from Loose Ends, involving gadgets, monsters, science and technology; some shadow and hand puppetry fun from Spike the Echidna; and cheeky, side-splitting stand-up comedy from Australia's number one Indigenous entertainer, Sean Choolburra.
The workshops include a super fun Bollywood dance class; an interactive workshop demonstrating 'spinning around' objects kids can make, decorate and test-fly; as well as the always popular kids' pottery classes.
Booking is required for all activities and can be completed at the venues, local branches of the Eastern Regional Libraries and through the website.
Among the events as follows:
* Loose Ends – Gadgets, Monsters and Musical Carrots. Arts Centre, Warburton. Saturday 7 October at 2pm (ages 5 to 14).
* Spike the Echidna – Shadow and Hand Puppetry Fun. Mooroolbark Community Centre. Thursday 5 October from 11am (ages 3 to 10).
* Sean Choolburra – Live and Deadly. Cheeky, side-splitting kids' stand-up. The Memo, Healesville. Tuesday 3 October from 11am (ages 5-12).
* Grug and the Rainbow – Based on Ted Prior's iconic story book character. Burrinja Theatre on Friday 6 October from 10.30am to 12.30pm (ages 1 to 5).
* Red Dog True Blue – Presented by Mooroolbark Christian Fellowship. Mooroolbark Community Centre on Wednesday 27 September at 7.30pm. All ages (PG). Free ice-cream, tea and coffee available.
* Sprinning Around – Daily Hands-on Activities. Yarra Ranges Regional Museum (Monday to Friday from 10am to 4pm).
* Spinning Around Workshop – Yarra Ranges Museum. Dates: Tuesday 26 September, Thursday 28 September, Tuesday 3 November, Thursday 5 October (11am). Ages 5-plus.
* Children's Pottery – Mooroolbark Community Centre. Monday 25 September, Wednesday 27 September, Thursday 28 September (10am, 11.30am, 1pm and 2.30pm). Ages 5 to 12.
For bookings, or more information visit www.ach.yarraranges.vic.gov.au/Whats_On or contact 1300 368 333.