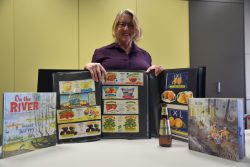 By Wendy Williamson
The artistic Harvey family will be the subject of the Yarra Glen and District Historical Society's ninth annual Tetlow Talk on Sunday 8 October.
Margo Heeley (nee Harvey) will accompany her talk, 'Attention to detail – a family of artists,' with plenty of quality illustrations.
World War I veteran Bruce Harvey was a graphic artist from the 1920s to the late 1960s.
His wife, Eveline Harvey, was a woman in a man's world. Despite criticism in the Great Depression and World War II, she pursued a graphic arts career for 65 years from the 1920s.
Margo said of her mother: "Her talent and the need to support her family during very hard times won out, and she produced many well-known designs for Monbulk Preserves Ltd, IXL, Carlton and United Breweries, Sands and McDougall, cigarette companies and others."
In the 1960s Eveline Harvey designed the Crown Lager bottle and label.
George Harvey, one of the sons of Bruce and Eveline, is a builder and wood craftsman.
Another son is Roland Harvey, cartoonist, children's book illustrator and author.
Daughter Margo is a book illustrator and botanical artist with a particular interest in plants indigenous to the Yarra Valley, where she lives.
She will deliver the ninth annual Tetlow Talk at 2.30pm on Sunday 8 October in the McCoomb Room, Yarra Glen Memorial Hall. Anyone is welcome to attend.
Yarra Glen and District Historical Society established the annual Tetlow Talks in 2009 to honour the memory of long-time member Eric Tetlow, a former secretary and treasurer of the society and a passionate history enthusiast.
Afternoon tea will follow the talk. Please RSVP for catering purposes. Contact Helen Mann on 0429 006 152 or Jill Sheffield on 9730 1587.