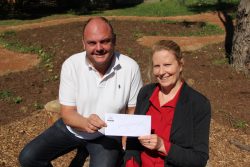 By Kath Gannaway
Never underestimate the power of the pub chook raffle to do good.
A long-standing tradition of hotels, RSLs and sports clubs, the prizes have evolved in recent years and, according Craig Barnett, owner of the Yarra Glen Grand Hotel, the popularity of the fund-raiser is never in doubt.
Craig introduced the tradition of the Friday night raffle to the Grand and says it is particularly well supported by the locals.
"When we get to around the $1000 mark, which is about every six to eight weeks, we donate the money to a local charity," Craig said.
"This year we have given to the Royal Children's Hospital Appeal and the Yarra Glen RSL, and today, we're very happy to be able to hand over $1000 to the Yarra Glen Living and Learning Centre."
Living and Learning Centre manager Debra Traill said they were very thankful for the donation, which she said would be well spent with the centre's edible forest garden ready and waiting to be planted out.
"It's nice for people who support these fund-raising initiatives to know that their hard-earned cash is going to something that will benefit the whole community," Ms Traill said.
She said that benefit would continue next year, with workshops aimed at upskilling community members to develop their own small gardens as a way of helping at a local level with future food security.