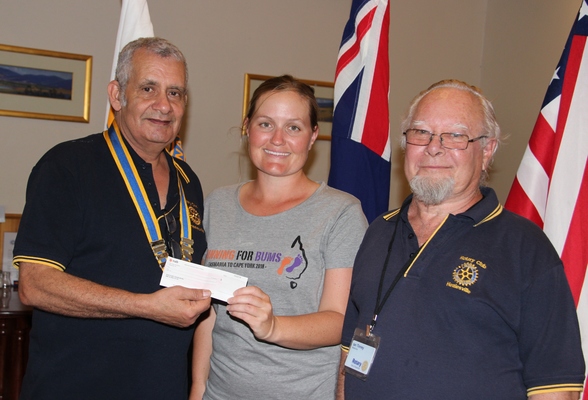 By Kath Gannaway
'Running for Bums' is about as catchy a catch-phrase as you can get, and that's exactly what Birdsville woman Jenna Brook had in mind when she set out on a 4,500 kilometre run from the south to the north of Australia.
Jenna left South Cape in Tasmania on 17 February and arrived in Healesville on Thursday night, 8 March, as it happened, just in time for dinner!
When Healesville Rotary Club found out just a few hours before she arrived that Jenna was running to raise awareness of Bowel Cancer, the club's Bowel Cancer Screening campaign co-ordinator, Dr Ian Tinney, invited her to speak at their weekly dinner.
Their aim is the same – early detection of bowel cancer to increase survival rates.
Rotary clubs throughout the Yarra Valley co-ordinate the Bowel Cancer Screening program in May each year.
With early detection, treatment of bowel cancer, the second biggest cancer killer in Australia, has a 90 per cent success rate, but less than 40 per cent are caught early enough.
It's a topic, with all the bum, poop and colonoscopy puns thrown in, that Jenna is happy to talk about … even at dinner!
Jenna said she loves a good adventure and a challenge.
"I thought this was a campaign where I could deliver a personal message and hopefully make a real difference in the early diagnosis and survival rate," she said.
Her financial goal is $50,000 for Bowel Cancer Australia and with 600 kilometres under her belt she already has $10,000 on the board.
But ultimately it's about getting people to talk about a topic which people notoriously shy away from.
She said her main goal is to have every person she meets in every town she runs through between South Cape and Cape York in Queensland saying "enough, enough … all right, well talk about IT".
"It was a great surprise, and a nice surprise to have Rotary contact me and to discover that we have that connection, and lovely to see so many people at the dinner, especially coming from a town of 100 people," Jenna said.
Dr Tinney said Rotary was delighted to have the opportunity to meet Jenna, help spread the message and make a donation to her 'Running For Bums' campaign.
Jenna will tackle the Black Spur, staying overnight in Taggerty on Friday, 9 March, on her way north – so keep an eye out for her.
"The hardest part of the journey so far has been the traffic," she said when asked about the challenges.
"One side is mental strength, and fatigue is overwhelming at times, but it is the traffic that has made some days very long and fatiguing," she said.
Mail readers can follow Jenna on facebook, through the website www.runningforbums.com.au , and donate at https://bcapersonalchallenge.gofundraise.com.au/page/runningforbums .