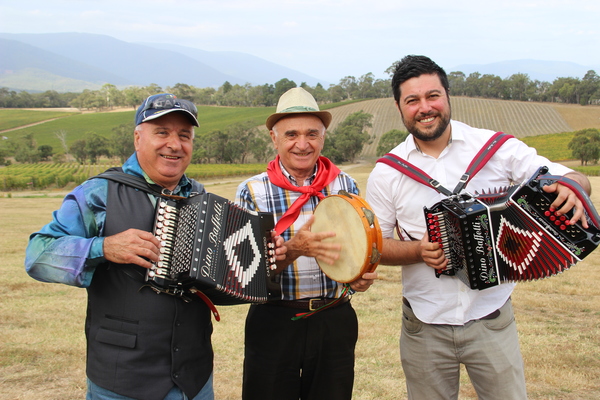 By Kath Gannaway
The annual Benvenuti Festival in Seville on Sunday, 11 March, was love affair … with culture, food, good wine, community and a diverse program of music and entertainment throughout the day.
The festival, held at Killara Estate, taking advantage of the magnificent views, attracted people of all ages, including teenage music lovers and sweethearts Emma Rush of Wandin and Ryan Smith of Seville, and Roma and Victor Cattapan from Lilydale, who in September this year will celebrate 60 years of marriage.
The couple came to celebrate the Italian connection – Victor is the first-born Cattapan in Australia and Roma, is an Aussie lass through and through – the name was just a happy coincidence!
The beneficiary of the festival this year is the Seville Township Group who are raising funds for the Seville War Memorial.
"For the township to be involved brings home the heart of this festival," said president, Derry Aulich.
"It's a welcoming and inclusive festival based on migrants who helped set up the Yarra Valley in so many ways.
"We're very pleased to have the opportunity to promote our cause – Seville War Memorial," he said.
Luigi Fotia, from the Yarra Valley Italian Cultural Group which hosts the festival, said it was great to see so many people enjoying themselves and going away happy.
"That's what we are working for," he said. "It's not always about big or small, it's the people who come and who make it a success, enjoying the atmosphere and also supporting a good community cause in the Seville War Memorial.
See more photos of Benvenuti 2018 at mailcommunity.com.au .