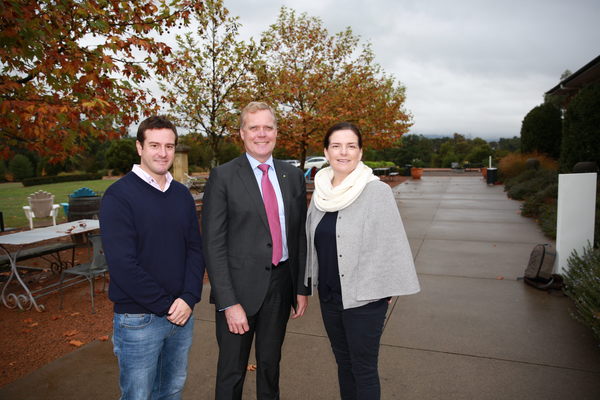 By Derek Schlennstedt
With Australian wine exports to China surging beyond records, vineyards in the Yarra Valley are making the most of a $100,000 grant to target popular Chinese social media platforms such as WeChat.
The grant is all thanks to The Yarra Valley Wine Growers Association (YVWGA) making a successful bid for a share in the $7.4million International Wine Tourism funding pool, which includes $2.8 million from the International Wine Tourism Competitive Grants Program.
Through this, the YVWGA will improve existing Chinese language websites and invest in Chinese social media platforms to improve the regions digital marketing to China.
YVWGA has been allocated $100,000 in matched funding for its $200,000 Yarra Valley China ready project which will target potential Chinese visitors and aim to increase visitation and spend in the Yarra Valley.
CEO of Wine Yarra Valley, Caroline Evans, said that the "outlook in China for Australian wine is phenomenal".
"China has become Australia's biggest inbound tourist market," she said.
"Securing this funding ensures we can by working closely with the team at Yarra Ranges Tourism, deliver two key elements of the Yarra Valley China Ready Project … both supporting local businesses to be ready to deliver excellent experiences to Chinese visitors and also to create and execute a marketing campaign to attract visitors to our region."
Each year hundreds of thousands Chinese tourists travel to the Yarra Valley both with the intention of seeing its splendour and tasting award-winning wines.
That explosion in tourism has been felt and seen by local wineries, with many even employing bilingual staff to improve their experience.
"It's dependant on the holiday season, but at the moment mid-week, I'd say around 30 percent are from the Asian market," Ben Portet, Winemaker at Dominique Portet said.
"It's quite a strong presence and is definitely something we try and be on the front foot with to engage with them.
"The last three years we've got a real demand in our wines from the Chinese market … we try to be pro-employment of Chinese or Mandarin speakers that can communicate with the different bus tours or groups."
The grant comes as China reinforces itself as a boom market for Australian wine products, with a 51 per cent yearly growth marking the first time Australia has exported more than $1 billion of wine to a single country.
The $100,000 grant was also a component of the federal Government's $50 million Export and Regional Wine Support Package that aims to grow the Australian wine sector and attract more international tourists to wine regions.
Under this package the Federal Government and industry plan aims to lift wine exports to $3.5 billion a year by 2021-22 and hope to lure an extra 40,000 international tourists to leading wine regions such as the Yarra Valley.
Ms Evans, said the grant, was a significant boost to the wine industry in the Yarra Valley and would immensely benefit wineries in the region.
"It's a significant boost to our ability to market to this audience because we haven't really had money available, so being able to do this collectively is a huge boost for the region," she said.
"We're really confident it's going to drive more visitors, and create more jobs … the biggest and most exciting thing about China is that it's quite a young wine culture, so we have an opportunity to educate them about our wines and why our wines are so good and stand up to the best in the world."
MP Tony Smith, supported the grant and said that it would be a "great boost for local tourism" which in turn would also "mean more local jobs".