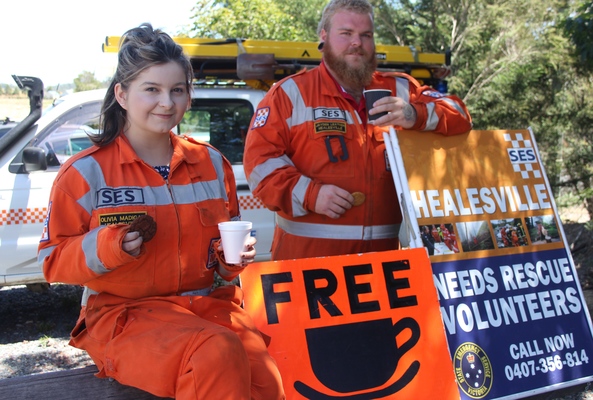 By Kath Gannaway
Victoria State Emergency Service (VICSES) is reminding drivers of the dangers of driving without breaks over the long weekend and to take a break every two hours.
Eighty-seven Victorians have lost their lives in road crashes this year and 20 per cent of fatal road accidents involve driver fatigue.
Almost 30 per cent of severe single vehicle crashes in rural areas involve drivers being fatigued.
TOLL Driver Reviver tackles fatigue and the aim, as always, is that everyone arrives safely at their destination.
Fatigue is one of the big killers on Victorian roads and Driver Reviver sites offer a place for motorists to take a break, enjoy a free coffee, tea or snack, and have a chat to the volunteers who in Healesville's case include Geoff Stott, Monica Hayes and Kobi, the popular unit mascot.
A good night's sleep before travelling, taking care while driving and planning your journey to include stops on the way are SES-recommended strategies for reducing driver fatigue and resulting crashes.
Spending time handing out tea and coffee is a no-brainer for the Healesville SES volunteers who are no strangers to the carnage and heartbreak that results from road crashes – it really is the only way they want to meet up with drivers and their passengers on Monday, 11 June.
The Driver Reviver van will be located at Castella Central Park, off the Melba Highway at the intersection with the Healesville-Kinglake Road in Castella where there's plenty of parking, water and public toilets.
The VICSES Driver Reviver message is simple; Stop, Revive and Survive.