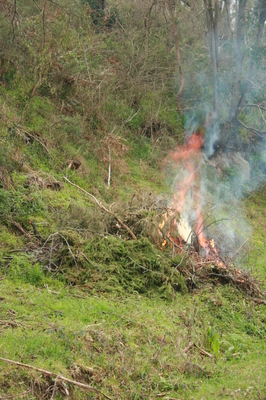 A momentary mistake when burning off can be costly for the environment – and the landholder.
That's the warning for farmers from the Environment Protection Authority Victoria (EPA).
EPA metro region manager Daniel Hunt said it was important to think twice before throwing anything extra onto the pile when burning off.
"It can be tempting to add household or farm waste such as silage wrap, chemical containers or old tyres to burn piles just to get rid of them," Mr Hunt said.
"These items don't burn properly and produce large amounts of smoke.
"The environmental impacts of burning the wrong things can be more than just a bit of smoke.
"You could be looking at toxic air pollution, residue running off into waterways and chemical contamination that persists in the soil."
Mr Hunt said these items should instead be sent to a properly-managed landfill or recycler.
Silage wrap, some chemical containers and tyres can be recycled to produce items such as building and fencing materials and floor matting.
Information on waste disposal and recycling can be found at www.sustainability.vic.gov.au.
Fallen trees or other natural wood being burnt should be as dry as possible and not freshly cut, to keep down the volume of smoke.
Mr Hunt said farmers should make sure they had any relevant council or CFA permits.
Timber that has been used in a building, furniture or other manufactured product must not be burnt.
"Anyone burning off should also pay attention to the weather, making sure they minimise the impact of smoke on neighbouring properties and have sufficient water ready to extinguish the fire if conditions change or the smoke gets out of hand," he said.
EPA officers can issue a fine of close to $8000 to those burning anything outside the normal range of things, like natural wood.
"Most farmers understand the importance to their livelihood and their community of preventing contamination of the soil, water and air around them, and EPA prefers to look upon a fine as a last resort," Mr Hunt said.
"That is why we are reminding farmers to think twice about what goes onto the pile when burning off, and help to protect the environment and the wellbeing of your farm, your family and your neighbours."
He urged people to report suspected pollution on 1300 372 842 (1300 EPA VIC) or at www.epa.vic.gov.au.