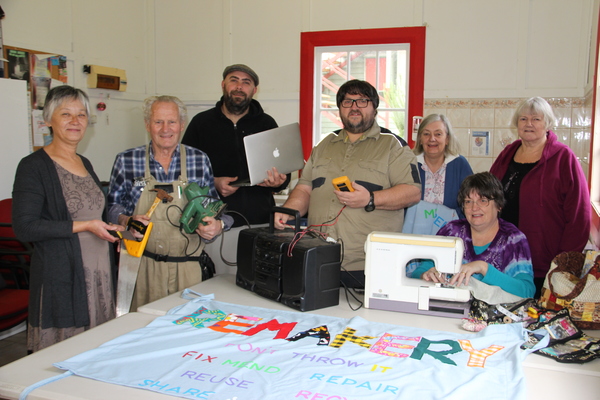 By Kath Gannaway
They are as diverse as the range of 'stuff' they fix.
They're Warburton's community fixers and their moto is simple 'Don't throw it away – it could be fixed'.
Held on the fourth Saturday of each month in the Warburton Community Space, the Remakery is one of the Upper Yarra's most exciting initiatives.
A team of fixers is at the heart of a move to redress the throw-away society, mend much-loved, or just plain practical belongings, and cut the amount of fixable stuff going into landfill.
The range of dedicated skills is a valuable asset, but so too is the ability of most of the fixers to turn their hand to tasks that challenge them in other areas.
Judd Zekas is an IT consultant who loves sharing and using that skill to fix hardware and help people with their IT problems.
"It's fun just learning how things work, pulling things apart, seeing how they work.
"Others have different skills so this is a good learning space as well as a fixing space," he says.
Martin and Lisa Scragg's skills couldn't be more extreme. Martin's forte is electronics, Lisa's is with yarn – knitting, croqueting.
What they have in common is a love of figuring things out. Figuring out how to fix things, and they've had some wonderful successes.
Why people come along and donate their time says something about the Upper Yarra community.
"I think what drives people to come and help is a desire and willingness to contributer to the community, especially when you have a really nice, close-knit community where people know each other," Judd says.
"It's an opportunity to socialise, interact and contribute in some way.
"I've seen people express surprise that something can be fixed and I think there's an appreciation that comes through with that."
With no cost attached, it's accessible to everyone.
The next Remakery is on Saturday, 28 July and will be run in conjunction with a Free Market Swap.
Take along something you no longer want and let others take it to a new home!
For further enquiries phone 0403 185 580.