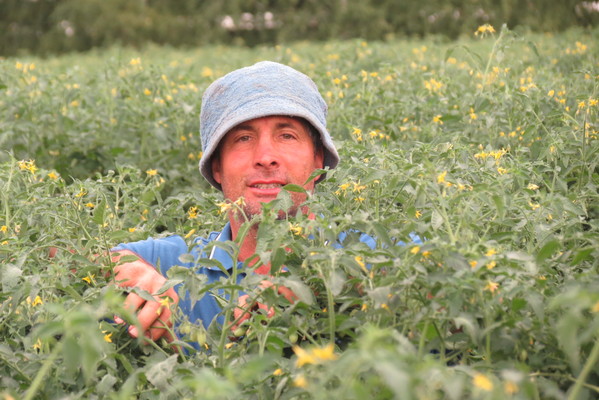 With Michael Pettinella, Fresh Berry Company
Tell us about your farm – where is it and what do you grow?
My grandparents farmed in Silvan and Wandin, my parents started growing strawberries in Coldstream 45 years ago.
We also grow mini roma tomatoes and the business has grown and diversified, all based around horticulture.
What's your favourite way to eat your produce?
I don't cook – I'm too lazy for additives unless someone else includes them. I like fresh, it's best!
What is your most memorable moment in farming?
Farming is always evolving and Victorian strawberry growers are fast adapters, like our use of good bugs and alternative soil treatments.
The Victorian Strawberry Growers have been a community that supported one another.
Industry is now changing to more individual corporate identities.
What past, present or future event would you like to witness first-hand?
Fortunately, my grandparents came to Australia and I was brought up on the eve of an era when Australian teachers taught the basics of life skills and making rational decisions and parents set boundaries. I'm lucky to work and travel with people of many cultures.
What would your last meal be?
When I'm about to depart this mortal coil, my last meal will be an open house barbecue with bring a salad or veg dish to share.
What's your favourite fresh produce item (other than what you grow)?
I love fresh, juicy, ripe fruit – peaches, mangoes, lychees and pears.
What is your favourite television show?
I don't watch much television except the ABC and the BBC.
I'm more a radio listener. I like talk back and, to break the monotony, Yarra Valley FM – especially the rock and roll hit parade.
What's the greatest challenge facing your farm?
Labour in horticulture is a problem in the developed world but robotics and artificial Intelligence are making great advances.
Locally, Queensland Fruit Fly is a serious pest.
Australia's belligerent bureaucracy is a major hindrance. I have spent over $30,000 and been hanging in limbo for three years to build a dam!
What six guests, dead or alive, would you invite to a dinner party?
GK Chesterton, Aung San Suu Kyi, Jessica Watson, Douglas Mawson, George Pell and Aron Ralston.
What's in season locally right now?
Seasonally, it is time for berry and tree fruits which the Yarra Valley is gifted with an abundance of.