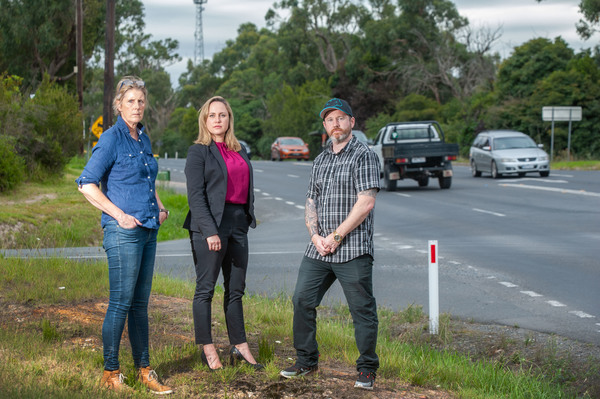 By Jed Lanyon
Seville East residents have slammed the state government's response to fixing the Warburton Highway, which has seen another accident nine days after a Labor MP claimed the road was "much safer."
A two car collision took place on the highway on Saturday 14 March with paramedics assessing two women at the scene, thankfully neither requiring hospitalisation. But accidents like this have become commonplace on the Warburton Highway.
For over a year, Seville East residents Joel Supple, Claire Knowles and Evelyn MP Bridget Vallence have been leading the campaign to have a dangerous stretch of highway between Douthie Road and Peters Road fixed.
They want to see safety measures implemented such as designated turning lanes to prevent rear-end collisions in both directions as well as pedestrian islands to assist children crossing the road to reach the bus stop.
It's not a huge ask considering a Woori Yallock man was killed at the location last April, while two other incidents resulted in serious injuries in 2019 alone.
But instead, the state government installed reflective road tilings and guideposts, which they said would reduce the risk of run off road crashes and head on collisions, while ignoring the practical solutions to prevent Seville East residents from being sitting ducks as they attempt to reach their homes.
"It's a slap in the face. We're highly insulted that our lives are not valued enough to put more infrastructure into this stretch of road," Mr Supple said.
According to the Department of Transport, in the five year period between January 2014 and May 2019, there were nine recorded crashes on the Warburton Highway between Peters and Douthie roads.
However, those figures don't paint an accurate picture of the carnage caused by the car crashes in Seville East. Many accidents, like the most recent one on 14 March, often go unreported as official incidents by police when drivers and passengers walk away uninjured, despite their vehicles being written-off.
"This is an absolute joke that the Labor government think that this is a satisfactory solution to make the people who live in Seville East feel safer when they are on the roads," Ms Vallence said.
"We should not have to wait for another tragedy before the government thinks it's acceptable to act.
"We have many serious crashes in this area. You only have to talk to the local emergency services … They tell me it's a regular place where they attend crashes."
Collisions occur so frequently that Mr Supple has become acquainted with local fire brigades who continue to attend to the scenes of accidents in Seville East.
"It's becoming so common now that the local firies now know me and they give me a wave and say hello when I see them. It's pretty sad that they know me just from this campaign," he said.
For Bridget, Claire and Joel, they want the Minister for Roads Jaala Pulford to come out and see just how dangerous the road is for herself.
They want state government officials to see how they feel having to turn into and out of the Warburton Highway, a risky roll of the dice some residents are forced to take several times a day.
They want the Department of Transport to listen to the voices of locals like Helen Lewis, who has been rear-ended three times on this same stretch of road.
"Locals have to modify their driving behaviour to accommodate the dangers on this road," Ms Knowles said.
"They are pushed into having to drive so defensively because there is the risk that they are going to lose their life.
"This is so far away from the (Transport Accident Commission's) Towards Zero campaign that it's pathetic."
Mr Supple vowed that their fight for safer roads will continue until the Warburton Highway receives the safety upgrades it requires.
"We know it's going to be a long battle, but we're not backing away from it."