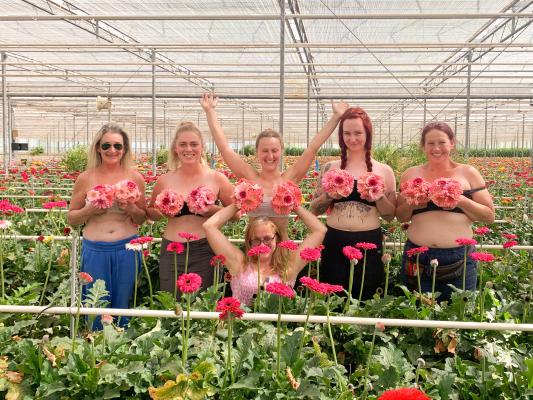 By Renee Wood
The Big Bouquet flower farm has used a cheeky photo to drive a fundraiser for breast cancer awareness month.
An image was uploaded onto its social media accounts, featuring the team using 'blooms for boobs' in the image – stating that every like the image gets the business will donate a dollar to the McGrath Foundation.
"So far we've raised over $800 in just likes, and we have also had some super generous donations from other flower growers around the state, so we are well into the thousands of donations now," Dana Stoddart from The Big Bouquet said.
The farm decided to support the vital cause, with most of the team touched in someway by the disease.
"We found just about all of us knew someone who had breast cancer before, passed away from it and so on. It is an issue that affects families worldwide, and we wanted to do our bit."
With just days left in October, The Big Bouquet is encouraging everyone to support their fundraiser by liking the photo on Facebook or Instagram.
"We will also be donating $2 from every bunch of flowers sold from our driveway flowers stall, so you can support our fundraiser by purchasing some beautiful gerberas. Our stall is operating from 8:30am – 4:30pm every day or until sold out."
If you'd like to support the cause visit – https://www.instagram.com/p/CUweihSlhGb/