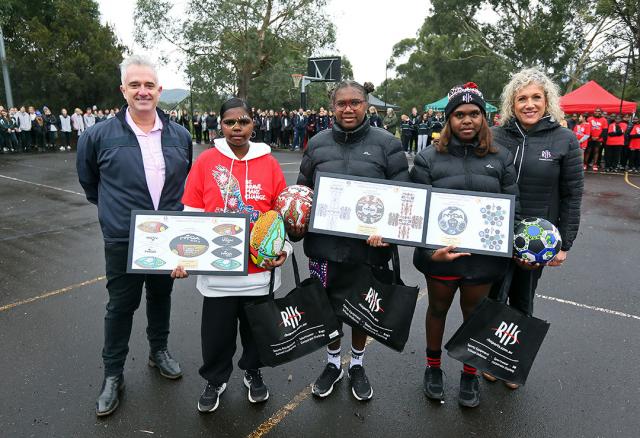 RHSports is proud to announce a sponsorship agreement with Worawa Aboriginal College, a boarding school for young Indigenous girls that come from Aboriginal communities across Australia.
The College provides a holistic teaching program based on an integrated education, culture and wellbeing learning model.
RHSports and Worawa share a common interest in supporting the education of Indigenous young people to reach their full potential. Under the sponsorship agreement, RHSports will work in collaboration with Worawa in the design, manufacture and supply of sports uniforms and sportinggoods based on artworks created by Worawa students.
The College pedagogy is learning from the Land which inspires the creation of designs by students in the visual art studio under the professional guidance and encouragement of visual art teachers.
The sponsorship agreement originally began in 2021, with a competition where student designs were selected for application to balls for netball, soccer and football. The artwork of three students was selected. The design of Year 10 student, Tenika a Warlpiri speaker from Yuendumu Central Australia was selected for Netball. Djambarrpuyngu speaker Kyanna, a Year 12 student from Elcho Island (Galiwin) Northeast Arnhem Land designed the AFL Ball and student Cashema a Year 10 Warlpiri speaker from Ti Tree / Willowra in Central Australia designed the Soccer Ball.
These students were presented with the finished product of their designs and a framed print of their work at the Worawa Reconciliation Sports Carnival which is held annually during National
Reconciliation Week. The new partnership agreement was also signed at the Sports Carnival. Established in 2001, the Reconciliation Sports Carnival brings together schools during Reconciliation
Week for sporting, cultural and social exchange which continues to grow in popularity with 20 schools having participated in this year's event.
Highlights of the event included a traditional smoking ceremony, a Footy competition for the Louisa Briggs Memorial Trophy, a Netball round robin, traditional Indigenous Games, 3×3 Basketball and Beach Volleyball.
RHSports is looking forward to seeing this sponsorship agreement celebrate Indigenous people, culture and art through the creativity of the Worawa students.