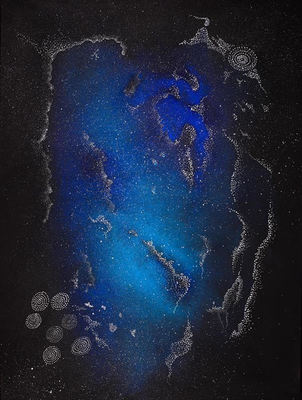 By Jed Lanyon
Infinite – an exploration of deep time and space through the works of Athena Nangala Granites and Stephen Jupurrurla Nelson will be on exhibition at Hearth Galleries on 27 February to 31 March in Healesville.
'Infinite' looks at Aboriginal cosmologies, while examining our relationship with deep space and time.
In Aboriginal cosmologies, time is infinite in its duration and can be as much a part of the present and the future as it is of the past.
Contrasting with a Western lineal perspective of time, the origins and powers of the Jukurrpas (Dreaming stories) are located in place rather than time.
Through significant works by Athena Nangala (Seven Sister's Dreaming or Yanjirlpirri Jukurrpa) and Stephen Jupurrurla Nelson (Janganpa Jukurrpa or Brush-tailed Possum Dreaming) this exhibition explores the power of contemporary Aboriginal artists to challenge our perceptions of and relationship to time and space, and equally to question our integration with place.
Through Athena's extraordinary cosmic night skies and Stephen's infinite journeys over earth, join them to feel the power of Infinite.