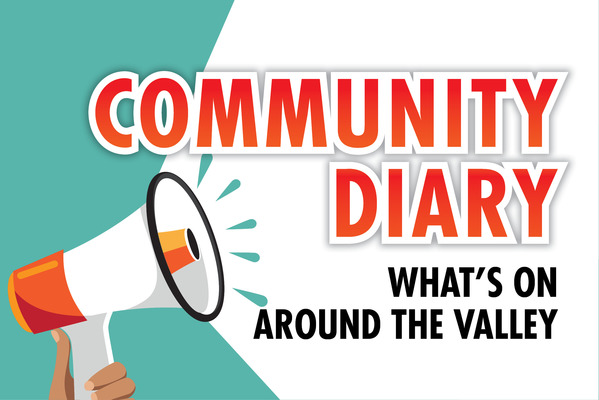 By Jed Lanyon
Recycled fashion parade
Yarra Valley Ecoss are hosting a recycled fashion parade on Saturday 26 October 2pm. This family-friendly event is back at Ecoss again with all models, designers, food, trash recyclers and performers locally grown in the Yarra Valley community. Come celebrate carbon friendly fashion with no cost to the earth or humanity. Tickets are $10 and kids go free. Inquiries 0416 181 171.
Country Women's Association
The Country Women's Association of Victoria is coming to Yarra Glen. If you are interested in learning about what the CWA do – it's not all about baking scones – then come along for a coffee and chat on Wednesday 13 November 11am at Yarra Glen District Living and Learning Centre. Inquires: 0409 210 153.
Festival of Quilts
Mont De Lancey will be hosting the Festival of Quilts from 9-17 November, which will help raise funds for the Quilts for Orphans charity. Visit montdelancey.org.au for more information.
Rotary visit
Rotarian Father Jason Micheni will be returning to Healesville from Kenya in October and will be free to chat with locals at Healesville Walk. Come and say hello on Monday 28 October from 10am-2pm.
Notes on Sunday
A Sunday afternoon concert will be held on 27 October 2.30pm at the Darron Honey Centre, Healesville. Enjoy an hour of chamber music by Yarra Ranges musicians, featuring works by Mozart, Schumann, Dvorak and Percy Grainger. Refreshments provided. Entry by donation with proceeds supporting HICCI.
Meet the author
Yarra Junction Library is hosting a free meet the author session:
Kerry Tucker author of The Prisoner on Monday 28 October 2pm.
St.Mary's Trivia Night
The Upper Yarra Anglican Parish will be holding a fundraising Trivia Night at St.Mary's Hall, 3360 Warburton Highway, Warburton on Saturday 26 October 7pm. Entry cost $15 per person. Come along for trivia, a silent auction, raffles, games and prizes.
Supper provided. For bookings, call 0497 632 002.
Women 4 Women
Join other women to enjoy a tour around a local garden in Badger Creek on 27 October 2pm to learn about medicinal weeds and garden plants. Learn how to identify and use them, then share an afternoon tea. BYO chair and mug 27 October 2pm to book,visit https://bit.ly/2kzBPNe or contact 5962 5982.
Wanderslore Sanctuary Open Day
Enjoy guided and self-guided walks in the Wanderslore Sanctuary Open Day at Launching Place on Sunday 27 October from 10am-4pm. Visitors can view a linocut display by Lilydale High School's art students in honour of the school's 100th anniversary and in connection with former teacher Constance Coleman, who donated this property to the Trust for Nature. Inquiries: 0409 235 498.
VIEW Lunch
The next Yarra Valley VIEW Club lunch will take place at the Yering Meadows Golf Club at noon on Tuesday 29 October. Inquiries: 0419 007 728.
Probus welcome
The Valley Ladies of Healesville Probus Club meets every third Monday of the month at 11am in the seniors club rooms at River Street, Healesville. Probus clubs are for semi or retired people looking to keep their minds active and expand their interests. Inquiries: 5962 1890.
Probus for men
The Men's Probus Club of Healesville meet every Third Thursday of the month at 9.30am at St Brigid's Church Hall. Enjoy fellowship and interesting guest speakers with like minded people. Inquiries: 0409 930 750.
Girl Guides
Healesville Girl Guides now meet at the Healesville Scout Hall on Tuesday nights from 6pm. Girls aged 5+ are welcome.
Pathways for carers
The Pathways for Carers project offers carers of people with a disability or mental illness an opportunity to share walks together and to learn more about support and services available. The group meets every fourth Wednesday of every month at Beechworth Bakery. Inquiries: 5962 5982.
Badger Community Meeting
Badger Community Group meets on the first Tuesday of every month at 4pm at the Badger Creek Old School. Local people work together to make Badger Creek even better. All welcome.
Probus ladies
The Healesville Ladies Probus Club meets every third Friday of the month at 10am in the Senior Citizens Hall. Attendees can enjoy making new friends who will enrich their life in retirement. There's no fund-raising involved and new members will be made very welcome. Inquiries: 5962 3713.
Community choir
Those who love to sing can join the friendly locals singing their hearts out at the new Healesville Community Choir on the first and third weeks of the month at the Darron Honey Centre at 7pm. Inquiries: 0417 904 862.
Bingo and social activities
Healesville Senior Citizens Club is seeking senior members of the public who would be interested in meeting new people to come along and join their activities. Bingo is held every Friday afternoon from 1pm to 3.30pm and general club meetings are held on the fourth Tuesday of every month, featuring lunch and entertainment. Inquiries: 5962 1550.
Grieving parent support
In support with Compassionate Friends of Victoria, a social luncheon group meets in Healesville on the third Wednesday of each month for parents who have lost a child. Inquiries: 5962 3287.
Reach out
Is there a free or low-cost community event you'd like to share with our readers? Send an email to editor@mailnewsgroup.com.au by 5pm on Wednesdays for inclusion in the following week's edition.