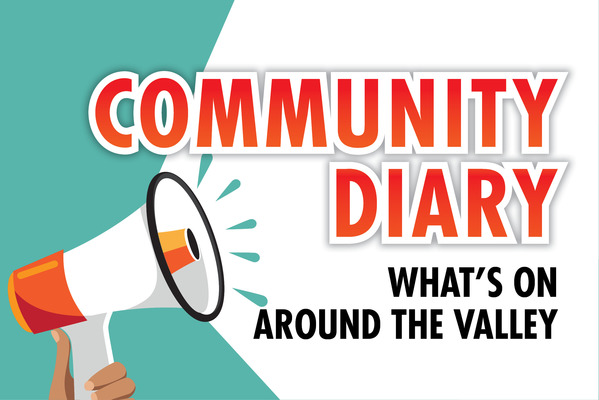 Cheese and Wine
Gruyere Primary School and Gruyere Hall will again hold their major fundraiser on 16 November at 6.30pm at Gruyere Hall, Killara Rd, while promoting local wineries and dairy farms. For tickets, visit www.gruyereps.vic.edu.au. Inquiries: 0408 992 859.
Church Fete
The annual fundraising fete will be held at the Healesville Uniting Church on Friday 22 November 10am and Saturday 23 November 9am. Grab a bargain from plants, books and produce stalls. Inquiries: 0407 801 491
125th celebrations
Yarra Junction Primary School will be celebrating the 125 year anniversary of the school on Sunday 1 December 10am-3pm. The school invites current and former students and community members to come along and enjoy live music, billy carts and wood chopping.
Flower Show
Steels Creek Garden Club will be hosting its annual flower show and plant sale on Saturday, 9 November from 9am-2pm at 699 Steels Creek Rd. The show will feature rose displays, plants and flower stalls and local produce for sale. Entry is free.
Celebrating Energy
Healesville CoRE invites you to a free community workshop, featuring three high-profile speakers who will showcase how other Victorian communities are successfully embracing community renewable energy. Those interested in community renewable energy are invited to attend Saturday 9 November 10.30am at the Darron Honey Centre, Healesville. To register, visit www.healesvillecore.org.au/upcoming-events/.
Medieval Village Fair
The Camelot Castle Medieval Village Fair is on 10 November from 10am-4pm. Enjoy displays of life in medieval times as the knights of Camelot rove the lands. Event features donkey rides, face painting and market stalls. Entry by gold coin donation at 2605 Healesville-Koo Wee Rup Road, Yellingbo.
130th celebrations
Healesville Tennis Club is celebrating its 130th anniversary this year and is calling all past and present players to help celebrate the milestone. A reunion and celebratory dinner will be held on Friday 15 November at the RACV Club Healesville, and a family fun Day on Sunday 17 November at the Queens Park Clubrooms. For booking details, visit www.healesvilletc.org.au
Country Women's Association
The Country Women's Association of Victoria is coming to Yarra Glen. If you are interested in learning about what the CWA do – it's not all about baking scones – then come along for a coffee and chat on Wednesday 13 November 11am at Yarra Glen District Living and Learning Centre. Inquires: 0409 210 153.
Festival of Quilts
Mont De Lancey will be hosting the Festival of Quilts from 9-17 November, which will help raise funds for the Quilts for Orphans charity. Visit montdelancey.org.au for more information.
VIEW Lunch
The next Yarra Valley VIEW Club lunch will take place at the Yering Meadows Golf Club at noon on Tuesday 26 November. Inquiries: 0419 007 728.
Over 50's friendship group
A new community group for older people in the Yarra Valley has been created with the purpose of enabling people to get together and develop new friendships. The Over 50's Friendship Group is a place to share knowledge, enjoy card and board games and to have a chat. Group meets every Monday at the Yarraburn Senior Citizens Centre at 1.30pm.
Probus welcome
The Valley Ladies of Healesville Probus Club meets every third Monday of the month at 11am in the seniors club rooms at River Street, Healesville. Probus clubs are for semi or retired people looking to keep their minds active and expand their interests. Inquiries: 5962 1890.
Probus for men
The Men's Probus Club of Healesville meet every Third Thursday of the month at 9.30am at St Brigid's Church Hall. Enjoy fellowship and interesting guest speakers with like minded people. Inquiries: 0409 930 750.
Girl Guides
Healesville Girl Guides now meet at the Healesville Scout Hall on Tuesday nights from 6pm. Girls aged 5+ are welcome.
Pathways for carers
The Pathways for Carers project offers carers of people with a disability or mental illness an opportunity to share walks together and to learn more about support and services available. The group meets every fourth Wednesday of every month at Beechworth Bakery. Inquiries: 5962 5982.
Badger Community Meeting
Badger Community Group meets on the first Tuesday of every month at 4pm at the Badger Creek Old School. Local people work together to make Badger Creek even better. All welcome.
Probus ladies
The Healesville Ladies Probus Club meets every third Friday of the month at 10am in the Senior Citizens Hall. Attendees can enjoy making new friends who will enrich their life in retirement. There's no fund-raising involved and new members will be made very welcome. Inquiries: 5962 3713.
Community choir
Those who love to sing can join the friendly locals singing their hearts out at the new Healesville Community Choir on the first and third weeks of the month at the Darron Honey Centre at 7pm. Inquiries: 0417 904 862.
Bingo and social activities
Healesville Senior Citizens Club is seeking senior members of the public who would be interested in meeting new people to come along and join their activities. Bingo is held every Friday afternoon from 1pm to 3.30pm and general club meetings are held on the fourth Tuesday of every month, featuring lunch and entertainment. Inquiries: 5962 1550.
Grieving parent support
In support with Compassionate Friends of Victoria, a social luncheon group meets in Healesville on the third Wednesday of each month for parents who have lost a child. Inquiries: 5962 3287.
Reach out
Is there a free or low-cost community event you'd like to share with our readers? Send an email to editor@mailnewsgroup.com.au by 5pm on Wednesdays for inclusion in the following week's edition.