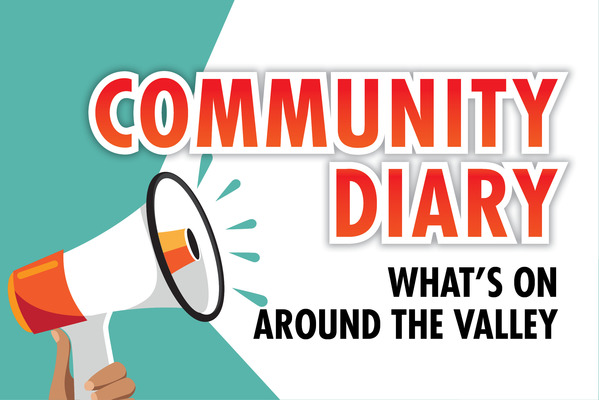 Local Art Group
Would you like to join a friendly and informal art group? Artrageous Painters is taking place every Thursday 10am at the Warburton Presbytarian Church Hall welcoming all levels of artists.
$5 per session. Inquiries: 0438 220 014.
Community Meal
HICCI offers a weekly community meal each Tuesday at the Darron Honey Centre, Uniting Church, Healesville. The free two course meal is prepared by our volunteer teams and served at 5.30pm. Everyone is welcome to share a delicious meal as well as some good company. No bookings required. Enquiries: 5911 600.
Probus for men
The Men's Probus Club of Healesville meet every third Thursday of the month at 9.30am at the St. Brigid's Church Hall. Enjoy fellowship and interesting guest speakers with like minded people.
Inquiries: 0409 930 750.
Welcome to Healesville
A one hour information session where new residents (<12 months) receive a welcome kit with information from community groups, CFA, SES, Shire and businesses takes place on the third Saturday of the month from 11am at Healesville Living and Learning Centre. Contact: HealesvilleConnect@gmail.com Storytimes at Healesville Library Every week during the school terms, the Healesville Library offers the following Storytime sessions: Tiny Tots 0-12 months Tuesday 10am, Family Storytime 0-6 years Thursday 2pm Toddler Time 1-3 years Friday 9.30am Bookings essential. Visit yourlibrary.com.au or phone 9800 6497. Community Sponsorship Program Upper Yarra Community Groups are invited to apply for funding under the Upper Yarra Community Enterprise Community Investment program. Support can be for an upcoming event, activity or project that the organisation is planning. Applications close Monday 12 April, 5pm. For more information, visit: https://upperyarra.net.au/sponsorships/ Selling crafts Do you make crafts or products and would like to sell them somewhere? Warburton Valley Handmade inside the Warburton Waterwheel Visitor Centre is looking for local crafters and makers who are interested in selling their handmade goods. If you live within the Shire, you can join the handmade retail shop. You pay rental for a box display from as little as $12 a month and what you sell is commission free. open 7 days a week 10am-4pm. Enquiries: 5966 9600. Hall maintenance Interested Badger Creek residents are being asked to help maintain Badger Creek Hall. The management committee meets on the second Thursday of each month at 7.30pm in the rear meeting room behind the hall. Enquiries: Kathy 5962 3639. Tennis players wanted Female tennis players of any age and skill are wanted to join Hoddles Creek Tennis Club for the Tuesday Maltta competition. 14 week season around the Yarra Valley for good fun healthy exercise suitable for active retirees. Enquiries: Val 9728 5079. Probus Club Ladies, keep the third Monday in the month free. Healesville Valley Ladies Probus Club meets at the Senior Citizens Club Rooms at 11am. You are welcome to join in on the friendly get-together meeting. For more information contact 0447 055 264. Fresh Food A fresh food program takes place each Friday at 10.30am at the Wandin Senior Citizens Hall allowing residents in need to come along and grab food items and ready to eat meals. For more information contact 5967 1272 or visit yarravalleychurch.com.au Men's health barbecue Mr Perfect men's mental health community barbecue will be taking place on the last Sunday of every month from 10.30am to 12.30pm in Melba Park, Lilydale. Free event with food and drink including vegetarian options. Children and pets welcome. More information: https://bit.ly/3nHcICH Reach out Is there a free or low-cost community event you'd like to share with our readers? Send an email to editor@mailcommunity.com.au by 5pm on Wednesdays for inclusion in the following week's edition.