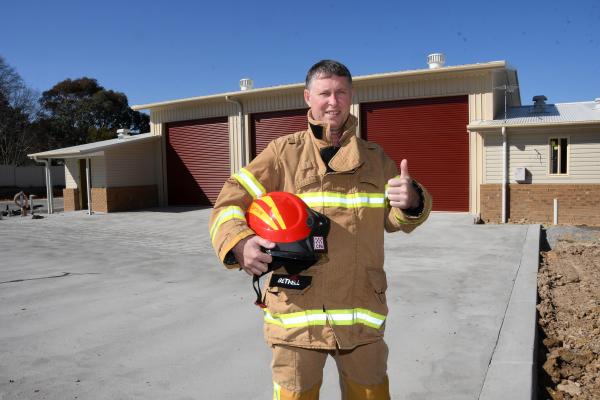 Sean Bethell is the Coldstream CFA Captain and has dedicated his life to being a volunteer firefighter for many years. He's looking forward to seeing the new site open up and the area growing.
1. What is something people don't know about you?
Most people would not be aware that I grew up in Coldstream so I know the area very well. I have lived in the area for 46 years and have enjoyed watching people grow up in the area.
2. Tell us about your role as Captain in the CFA
Captain has a large responsibility with ensuring the safety of the members of the Coldstream Fire Brigade. To ensure we are able to respond to emergencies anywhere in the area.
3. What has been your most memorable moment in the CFA? Why?
Most memorable moment would be going to the first deployment to NSW in 1996.
We were sitting around the table Christmas day having lunch when the call came in for crews to take Coldstream Tanker 2 to Bulga, North-West of Sydney. When we left Coldstream it was pouring rain and then we were in Sydney, lights and sirens going through the main city with police escort and 40 degree heat – a large contrast from what we left in Melbourne.
4. What do you love most about living in the Yarra Ranges?
The sense of community and this has shown during the last 18 months. The community has held it together to keep Covid at check within the shire. We all just look out for each other, instead of what is best for one person.
I love the open space of the country feel in the outer areas of Coldstream and surrounding towns.
5. How are you keeping sane during lockdowns?
I work hard from home as a purchasing manager for an inverter manufacturer, this keeps me busy during the week. I am lucky to be able to do my role from home. Also with the added increase in work looking after the fire brigade with our management team and building committee for the new Fire station, there isn't much time to sit back and relax. I believe in about 6 to 10 weeks this will become easier as we move into the new building.
6. What are some of your hobbies?
I am into computer games and during the summer I have been getting back into cricket. I play for the Coldstream Crocs, which I have been fortunate to have played in three grand finals and won two of them, first in 2016 and second in 2021. And of course Fire Brigade as a volunteer.
7. What event, past, present, or future, would you like to witness?
At the moment the official opening of the new Coldstream fire station.
Other than that I would like to see the land around the Coldstream Food works be developed as housing to increase the possible intake of volunteer firefighters.
8. Who do you admire the most?
I would say my father, Robert, he has been with the CFA 59 years and was Captain for 23 years and saw the brigade through Ash Wednesday fires in 1983 as captain.
9. Favourite book or movie you recommend?
I have many favourite movies, it is probably easier to say I love a good comedy or action movie.
10. What is an important issue in the region you think needs exposure?
I think this is more a local issue and will not agree with everyone. That Coldstream has not seen any increase in development.
The estate has been at the point of being stagnant for many years, the Shire needs to look at opening small pieces of land for development each 10 years, even just 50 houses.
Coldstream schools, sporting, kinder, fire brigade, and any other volunteer groups struggle to get active members, the only way this can change is families moving once the kids grow up or new families coming in with new housing.