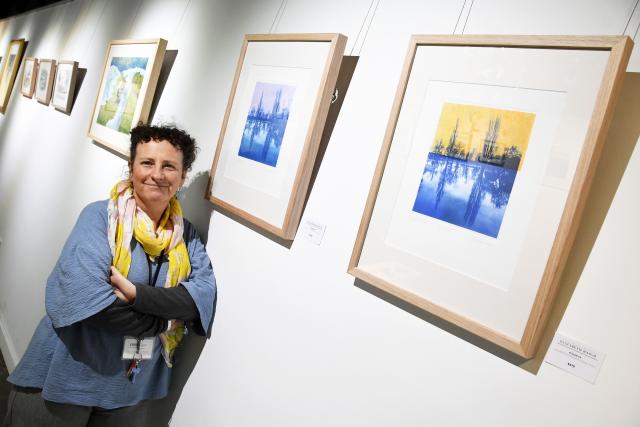 By Renee Wood
YAVA Arts Gallery has opened its May exhibition, with 14 artists joining the show focussing on paper.
Gallery Manager Dakini Maddock said the idea was initially conceived a year ago – to create an affordable art show that showcases anyone who works with paper as their main medium.
"We've got photography, we've got lino cuts, we've got acrylic on paper, we've got charcoal on paper, pastel, eco prints – quite a big variety," Ms Maddock said.
The artists included in the show are Amanda Ruck, Cathie Berry, Cecilia Sharpley, Christine Cafarella Pearce, David Miller, Di King, Elizabeth Haigh, Jan Liesfield, John Bodin, John Christie, Kate Baker, Pamela Gordon, Rachael Rose and Wilani van Wyk Smit.
Ms Maddock said paper is a wonderful medium that can often be taken for granted.
"It's been with us for 1000s of years and the whole way paper is made from going to the toilet to what you write your shopping lists on to making beautiful pieces of art," she said.
As part of the exhibit, a Peace Dove installation has been created which uses origami birds to install a message of hope and kindness with a difficult time being felt across the globe.
A display has been started, however the gallery invites attendees to sit down and create their own origami to be attached to the display.
"With Ukraine and everything that's going on with the war in the world, we thought how can we do something to make put a bit of love into the world," Ms Maddock said.
"So we're inviting members of the public to contribute so they can come in and make one themselves.
"I think the process of actually sitting down and working with origami gives people a real visceral experience of the paper as well."
Artist Elizabeth Haigh has been chosen as the feature artist for the promotional material for her series 'Floods' which is of handcrafted prints using photography and traditional etching.
Ms Haigh said each print evolves slowly as she reflects on both the dependence and the impact we have on the environment.
"The heavy downpours during Winter and Spring 2021 led to the Yarra River near me flooding and overflowing into nearby fields and pastures," Ms Haigh said.
"Lockdown restrictions provided the opportunity to photograph the aftermath from these rains. The use of 'unnatural' and heightened colour is deliberate to suggest nature's unease."
The exhibit 'Works on Paper and Print' is open now, running until Sunday 29 May.