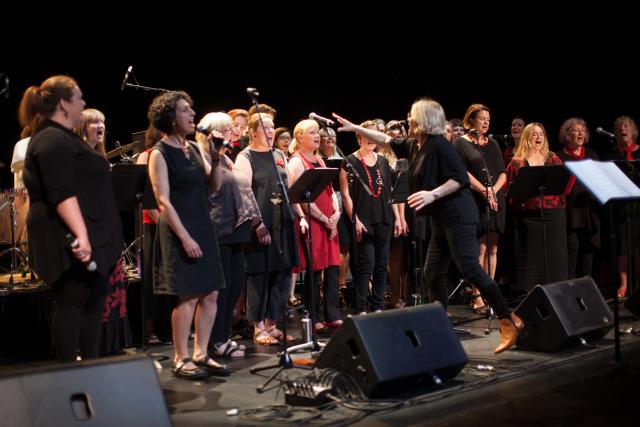 By Dongyun Kwon
The beautiful harmony of Badger Creek Women's Choir will be performing at the Healesville Memo on Saturday 28 October.
The concert will be an hour and 10 minutes long along with 12 songs by the choir including some solos, a comedy and collaboration with a musician band.
It will be their first concert since Covid-19 swept the whole world.
Choir Conductor Jennifer Legg said she was excited for the concert after a long wait.
"We've got a great bunch of women and good music with pop classics, rock classics, indie pop," she said.
"It's a great opportunity for us to share all the hard work we've done with our families, friends and community."
It has been almost 10 years since the women started to sing in harmony in 2014.
The choir was spontaneously formed by local women who loved music.
A group of women asked Ms Legg, who was a music teacher at Badger Creek Primary School, if she knew of any local choir after they had a community-orientated music program.
"I didn't know any local choir that they could join to fulfill their passion in music, so I decided to start one in 2014," Ms Legg said.
It started with 16 people and currently has about 30 members with a broad age range.
Over 60 women have sung in the choir.
Ms Legg explained the choir was for the people who love singing and to build a relationship with people who have the same interests.
"We are a non-auditioning choir which is for everyone who enjoys singing together to lift the spirit and the sense of well-being," she said.
"I arranged the music in a way that is accessible to the women to keep them interested, but to make it doable, not too difficult, but still interesting and challenging.
"The concert deepens our ties even more while we are doing it together in weekly rehearsals."
They come along together every Wednesday in the Memo for rehearsal.
Collaboration of the new and old members shines through the rehearsals where they help each other to learn from each other.
Yarra Ranges Council has supported the choir by providing the rehearsal venue for free and a partnership grant which offers four-year funding to community groups, organisations and service providers to deliver projects and programs which facilitate positive social change and celebrate the diversity and cultural uniqueness of our region.
The club is open to any woman who is interested in music.
They can either turn up to the rehearsal venue at 7pm on Wednesday or contact them through their Facebook or Instagram to join the choir.
"After this concert, we'll start to rehearse a short repertoire for the Healesville Carols by Candlelight," Ms Legg said.
"That will be a good time for new members to join if they want to try a short time with the choir."
The concert is free with free supper provided and booking can be made at the Memo.