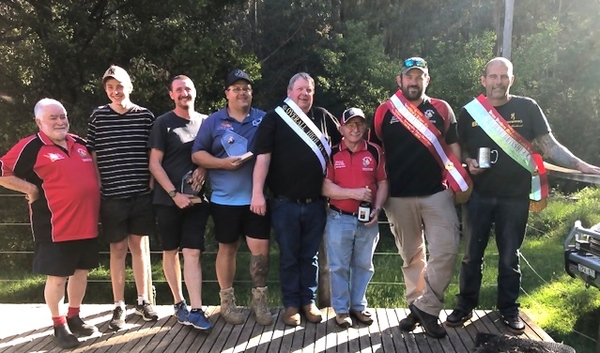 By John Wood
A warm sunny day greeted competitors at the Woods Point Gun Club for the annual President's Trophy shoot and the Brian Prothero Memorial Trophy event.
The day began with the obligatory Eye Opener that saw Ian Findlay, Cameron Trevitt, Cranky McCall and Andrew Ferrari returning 29/30 to share the AA-Grade cash.
Allan Kidd won A-Grade, 27/30 with Steven Howlett successful in B-Grade, 29/30.
Kirsten Chinn's 28/30 was enough for her to take the C-Grade cash prize outright.
The 25 target Double Barrel President's Trophy event was next.
Phillip Woods started well with a 25/25 score shortly followed by Phillip Desmond, Steven Howlett McCall and David Allen to bring them to a shoot-off for the trophy.
Cranky McCall (42/42) soon became the 47th winner of the President's Trophy, which finished up a successful day for the competitor.
Phillip Desmond was 2nd in AA-Grade.
A-Grade saw a clear win for Allen 32/32, Woods (2nd) 31/32 while B-Grade was won by Howlett 25/25 and Laurie Poile finished second with 23/25.
Kirsten Chinn took C-Grade 22/25 from Matthew Ewert, 20/25.
After lunch, the 25 target Handicap Brian Prothero Memorial was completed with Steven Bedggood, Geoff Hill and Daniel Chinn going into a shoot-off for the trophy.
In the end, it was Daniel who held the Brian Prothero Memorial Trophy with a score 26/27.
To finish the day, the club held the 25 target President's Tower Championship.
Chuck Lay and Trevor Ewert returned perfect 25/25 scores to put them into a shoot-off for the championship sash and after six targets Ewert secured the sash with a final score of 31/31.
The Vice President's Overall High Gun for the day was won by Daryl Ewert with a score of 70/75.
The club's shoot is the end of year Christmas shot on 8 December starting at 9.30am.