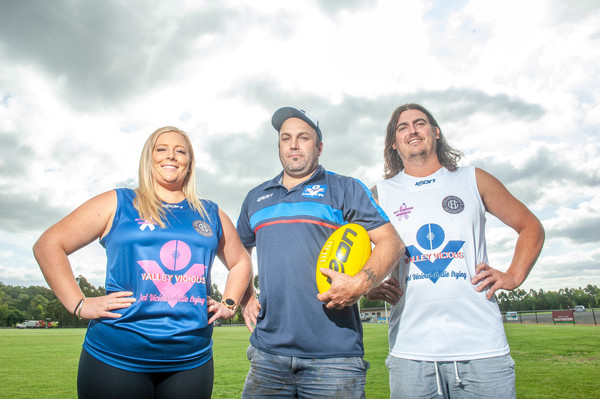 By Nick Creely
Some of the great football and netball characters of the Yarra Valley and south east are set to once again come together for a wonderful cause with the Valley Vicious Rett Awareness Cup back for another year and set to be even more entertaining.
On a night dedicated to banding together as a community with the purpose of fighting and raising funds for the devastating disease that is Rett Syndrome, Lee Lawrence is once again hoping for crowds to make their way out and support the cause, which will be held on Saturday 29 February at Healesville Sporting Complex.
"Last year we ended up raising around $20,000, and this year we're aiming higher, about $50,000, and that is achievable," Lee said.
"Off the jump we've raised around $18,000, and I think we'll do it, but we'll see how we go.
"We're just praying on good weather."
Lee runs the popular Facebook page 'Valley Vicious Footy and Netball Banter', which he started when his daughter, Gypsy was diagnosed with Rett – a genetic brain disorder found almost exclusively in females and with a prevalence of one in about 15,000 females – all with the aim of raising awareness and raising funds to find a cure.
Infants and children with the disorder cease to acquire new skills and gradually lose previously acquired abilities, such as control of the hands and the ability to vocalize most sounds and words.
Lee said while the disease is cruel and debilitating, Gypsy has never dropped her spirit and continues to smile no matter the circumstances.
"She's been going really well – we do have to help her quite a lot with her eating now, but that's really the only noticeable thing of late," he said.
"She's just always happy, and she's started school this year which is awesome.
"So she's doing three days up at Kinglake and two days down at Mount Evelyn Special School. It knocks her around a little, but she's going really, really well."
Lee said that Rett Syndrome Australia are doing everything they can to cure the disorder, and are confident that it will one day become a reality.
"From what we here, they're very positive, they do believe that it'll be one of the brain disorders that'll be cured," he said.
"They're grateful of what we give them, and they've assured me they will find a cure one day."
The Facebook page has since attracted a cult following in the Valley, and next Saturday's event is set to be a monster day of sport, with a large crowd set to be treated to some excellent football and netball action.
With the gates opening at 12pm, the All-Star netball clash will kick off at 2pm, before the Valley Vicious ladies games featuring all-stars from around the Valley against the Healesville ladies premiership team bounces the ball at 2.30pm. During half-time of the ladies game, there will be an Auskick game on the oval, as well as a range of activities for kids and adults across the game.
The night's main event, the Valley Vicious All Stars versus the Valley Vicious Vets All Stars, will close out the day, with a range of speakers, including a band post-game, set to entertain the crowd.
There will be a 'Big Splash to Beat Rett' as well as a Valley Vicious Electrics Super Booth competition that is sure to also keep fans engaged on the day.
Lee said the introduction of the ladies game this season – as well as the football and netball matches was simply something that had to be done this time around.
"Adding the girls' game is pretty much a no-brainer," he said.
"Girls footy has kicked off massively, and adding the girls have been fantastic.
"We've got all these group chats with all the teams and the energy the girls show and the way they promote has been fantastic."
The day will cost $10 for entry, with kids under 16 getting in for free. For more info, search @valleyvicious on Facebook.