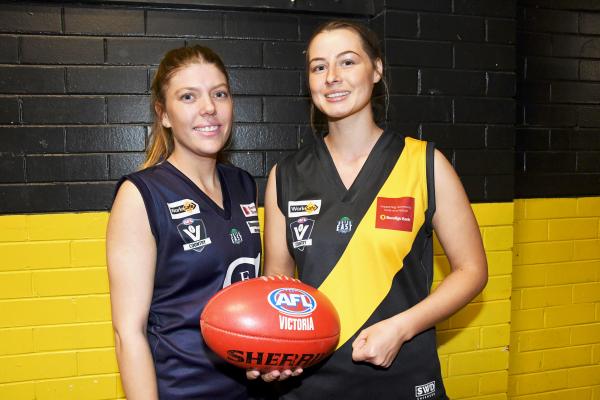 By Jed Lanyon
The Tigers and Blues are traditional footy rivals in the AFL, and that's no different in the Yarra Valley where just seven kilometres of the Warburton Highway separates the Seville Blues and the Woori Yallock Tigers.
But the neighbouring rivals have come together for the greater good in an effort that allowed many local women to play football, some for the very first time.
When both clubs struggled to make up the numbers to field a team in the AFL Outer East Senior Women's competition, the clubs put their egos aside to join forces and the result was the creation of the 'Woori Seville' football team.
The name features both townships as the two clubs couldn't come to an agreement on the combinations of 'Woori Yallock Blues' or 'Seville Tigers'. The team even splits their home games between both townships, and wears both the navy blue and 'S' monogram guernseys and then the yellow sash jumper, depending on where their home game is being played.
The team's captain, Nicole Kimpton, had been part of a group trying to get a Woori Yallock senior women's team together since 2019. Over the months and attempting to train sporadically throughout the pandemic, the club had about 12 players committed to play for the current season.
"We approached Seville and they had similar numbers as well, so we decided to merge," she said. "Our first training session as a team was three weeks before the first round, so there was a lot of pressure for everybody to make friendships and to learn how to play. The majority of us, at that stage, hadn't played before."
Kimpton, a loyal Powelltown resident, said she never envisioned herself playing for Woori Yallock when she decided to take to footy, let alone Seville.
"It was a bit of a shock when we decided to merge and I couldn't have imagined from the start that we would actually merge, but I think it worked out the way it was meant to because we're all such great friends now. The Seville girls, the Woori girls, we all get along so well."
The Woori Seville captain is playing her first season of football after what must seem like the longest pre-season training ever.
"This is my first season, although we have trained for a year and a half. I still definitely feel like a newbie, but with all the support, our skills are developing so quickly."
And while the new team of mostly inexperienced players is yet to win a game, Kimpton said she is seeing great improvements each week.
"We're learning new skills, we're developing and bonding so much more. There's a lot of pressure in football around having to trust each other and protecting each other and it's going good so far.
"It's an interesting dynamic, obviously you've got the two committees making decisions for the team in consultation with us as well. In terms of support, it's been really good…Every time we've played at the Seville home ground, all the seniors have been there, a few netballers are there and the club has stuck by us even though we're playing in Woori colours because our Seville guernseys hadn't come in."
The new team is still on the lookout for new players and invites those who haven't played the sport before to try it out.
"We'd like to encourage women who have never been given the opportunity to play football before, or sport in general. We're all a really welcoming team."
When asked whether she ever thought she'd be putting on the Seville guernsey, Woori Yallock resident Anne Crymble said, "Not a chance. But it's not that bad."
"The decision to merge the two teams is better than having 20 odd women walk away and not play for the season.
"Our scores and our tackle figures are getting better every week. You can see the progress and from week-to-week you can see a big change in some girls."
Seville's Geordie Scott has taken up the role as coach of the new team. He's been involved with Seville since 2013 as a player and coach.
"It's been interesting. Both committees are very supportive of having a women's side. So they've put their differences aside to make it work. Both committees and presidents have been supportive but have also taken a step back, so they don't have those egos inside."
Both of the club's presidents had played against each other in the 60s and 70s for either club.
When numbers were low last year, both clubs organised a 10 vs 10 practice match to give the players a taste of a footy match. It's something Scott said helped in having the two teams merge.
His daughter, Courtney, had played for Seville's Under 16s premiership winning side but had no team to play for once she became of senior football age.
"The jumper doesn't bother me or where she is playing, it's the fact that she now gets the opportunity to play because 10 years ago, once you turned 14, that was it. You were done. So just to have a women's side that has the opportunity to play the game and enjoy themselves and be part of a football club. I think that's the winner."
The women's clubs joining sees history repeat itself as men from Wandin, Seville and Woori Yallock's teams combined in 1956 under the name 'Valley United' when team numbers fell short. The team only lasted three years before disbanding in 1959.