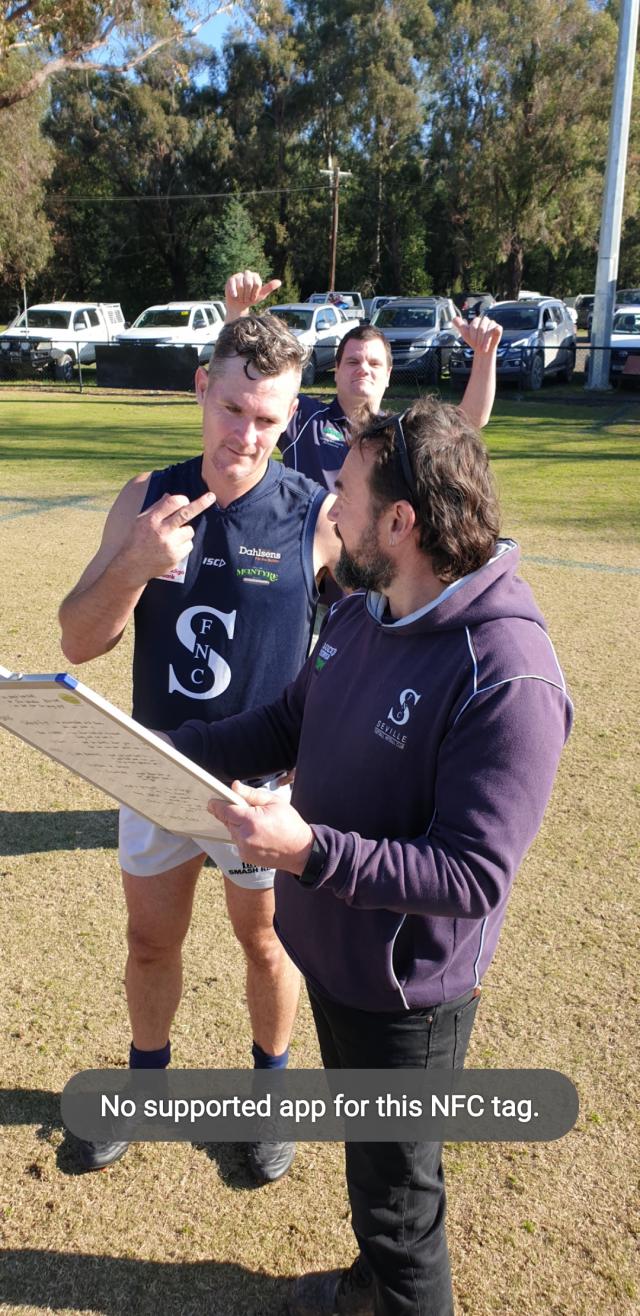 Football
Sixth-placed Yarra Glen hosted the unbeaten, top side in Seville for the Fight MND round, with the last time Seville played at the wide ground in their 2019 Premiership triumph.
The River Pigs started with plenty of fight full of running and caught Seville napping taking a 4.1 to 1.5 lead into quarter time. Intense tackling pressure from Yarra Glen put Seville on the back foot as the home side dominated possession with Brendan Dickinson only kicking a late goal for The Blues to get them on the board.
As expected the ladder leaders came out in the 2 nd quarter with more intensity and added 5 goals to Yarra Glen's 1, with many of Seville's forward entries set up by the Sciortino brothers tip-toeing there way through half-back and finding targets inside 50.
Losing Nathan McCulloch and then Jimmy Marks to injury had unbalanced Yarra Glen with Jack Nolan able to set up behind the ball to intercept Yarra Glen's forward moves. Jason Godfrey was winning in the
ruck and his marking around the ground, along with Billy Gardner in the midfield to keep Yarra Glen in the game. Seville punished some misdirected kicking with very clean and efficient ball movement to be up by 10 points at the main break.
Seville managed to slightly extend their lead by the end of the third quarter to 20 points, with Josh Weightman racking up the possessions and Paul 'The Fossil' Bailey doing the hard yards around the ground getting the ball out to the running brigade, including sharking one off the pack himself and sending it forward resulting in a goal.
The second half continued to be a great battle, with Yarra Glen continuing to push the top side to be within 2 goals early in the last quarter. Yarra Glen couldn't capitalise on their work in defence and through the midfield, and despite having more scoring shots than Seville in the second half, couldn't match their forward connection and conversion.
Seville's Jack Nolan was sent to the goal square at full-forward after dominating across half-back for 3 quarters taking mark after mark.
Big Jack didn't disappoint by kicking 2 majors including a snap over the left shoulder from 50 out on the boundary line which brought the crowd to its feet.
Seville kicked 4 goals to 3 for the quarter running out 23-point winners and remaining on top of the Division 1 ladder with the final scores Yarra Glen 10.12 to Seville 14.11
Best players for Yarra Glen, in a great team effort were Marcus Kikadopolous (4 goals), Charlie Wood (1 goal) Jason Godfrey, Richard Gurney (1 goal), Callum Morison (2 goals) and Jayden Schille. Other goal kickers for Yarra Glen were Richard Wyles and Ben Ashton. Seville's best included Josh Weightman, Daniel Iacuone, Bayley Sciortino, Jack Nolan, Paul Bailey and Jake Strachan.
In the Reserves, last-placed Yarra Glen faced third-placed Seville and were very competitive through the first quarter. Yarra Glen captain Regen Daniel was able to slot through 2 goals to see the River Pigs within 8 points at the quarter time break. Seville lifted their work rate in the second quarter, with some of their better players starting to link up to produce a 4 goal quarter whilst holding Yarra Glen to just 3 points. The home team continued to work hard but didn't convert as well as the more accomplished Seville unit, with the occasional skill error being punished by the Blues. To Yarra Glen's credit, they continued to work hard, being outscored by only 1 goal in the last quarter. Final scores Yarra Glen 5.7 to Seville 13.13.
Best players for Yarra Glen were Steve Mylas (1 goal), Luke Vanderstadt, Zac Capuano, Nate Capuano, (1 goal) Brendan Davis and Alec Peterson. Other goal kickers were Regen Daniel (2) and Lachlan Crawford.
Best for Seville were Tim Cumberland, Benjamin Conder, Nick Sciortino, Nik Broadley, Liam Canaider and Aaron Stevens.
Netball
A grade: sixth-placed Yarra Glen faced the top placed Seville and started with plenty of spirit and a combination of great defence and swift ball movement to take a 13-12 lead early in the 2nd quarter. Yarra Glen
trailed by only 4 goals at half time. Seville seized the momentum in the 3rd to take a 14-goal lead going into the last. The Yarra Glen girls didn't surrender but found Seville too strong, losing 31-48.
Best players for Yarra Glen were Steph Gibbs, Jackie Hibberd and Katelyn Vanderkolk and Yarra Glen player-coach Peta Fay was great in defence and would be pleased with the improvement in the team performance.
Hayley Ray, Carly McDonnell and Emily Wicks were Seville's top performers.
In B Grade, fourth-placed Yarra Glen took on second placed Seville and was able to get within 3 goals at quarter time. Yarra Glen was outplayed in the 2nd and 3rd quarters but showed some great fighting spirit to score 10 goals to 11 in the last, going down in the end 38-57.
Yarra Glen's best players were Ellen Brown, Meaghan Carter (17 goals), Gemma Ryan and Tammie Milbourne.
Seville's best included Hayley Ray and Alexis Tucker
In C Grade, pushed the top placed Seville throughout the game. Seville outscored them consistently in each quarter with just the occasional turnover making the difference. The end result was 26-35 in Seville's favour with the best players for Yarra Glen being Jackie Gardner, Riley Shanks and Alex Bray (14 goals) and Courtney Canning, Tarsha Collette, Laura Colosimo for Seville.
In D grade, sixth-placed Yarra Glen took on second-placed Seville and found them to be just a bit too good throughout the game.
Seville slowly increased their lead in each quarter with Yarra Glen going down 20-46.
Best players for Yarra Glen were Sarah Orlandi, Chelsea Burton and Melissa Erickson.
Seville's best players were Corinne Tesselaar, Hannah Ray and Tahla Gibbs
Yarra Glen will face Belgrave at Belgrave next week while Seville is away again, taking on Gembrook Cockatoo at the Gembrook Showgounds.