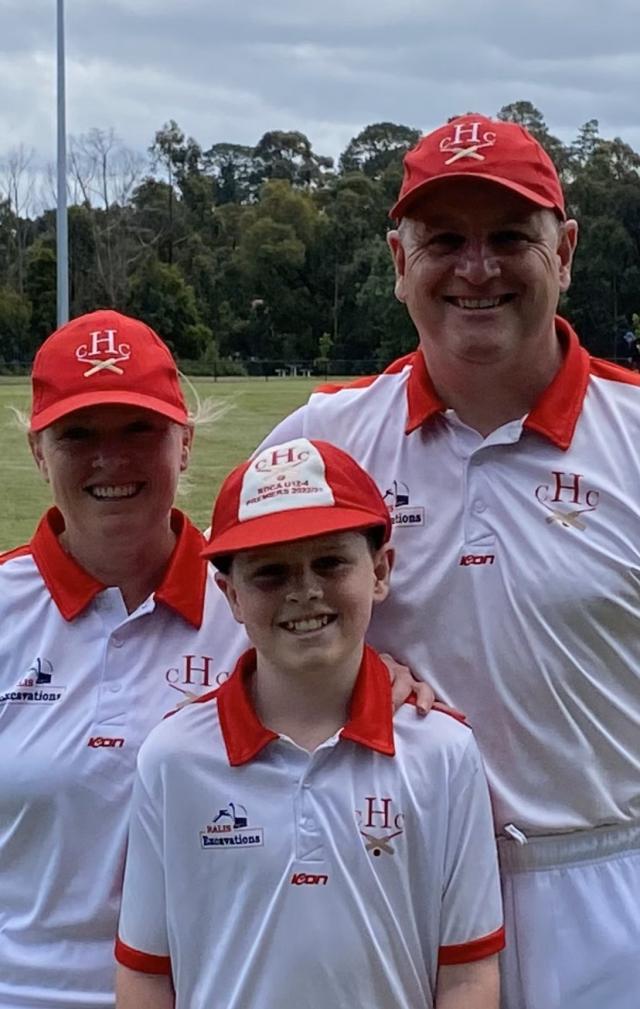 By Dongyun Kwon
It was a family affair at the Healesville Cricket Club with a whole family playing in the same team for the first time in the club's history.
Three Hardings, father Matthew, mother Belinda and son Henry played together for Healesville's 4th XI.
Matthew said it was the first time his family could play together.
"It was fantastic. It was the first time we could do it because my wife has other commitments, but just the stars aligned, and we were able to play together today," Matthew said.
"I'm proud to be the first family that mum, dad and son played for the same senior team. It was a very special day for my family."
Matthew has been into cricket as a coach and a player for many years.
His son Henry takes after his father and has played cricket since he was eight years old.
Henry is now 12 and has developed his skills well enough to feature for one of the senior teams.
His improved skill hasn't made Henry let his guard down, rather, he has gotten more motivated as he plays for both his U14 team, which is coached by his father, and the 4th XI.
"Henry is a leg spin bowler, but he also plays as a batsman quite well. Belinda is an all-rounder and I am a batsman," Matthew said.
Here are the club's results, submitted as usual by Chris Handasyde:
Seniors 4th XI: Healesville 102 defeated by Mooroolbark 7/136
Mooroolbark batted first at the Don Roa oval and it was a real arm wrestle early as Mooroolbark crept up to 7/136. Wyatt Coleman captured his first senior wicket and Denzel Parsons took 2/16. A gettable score soon turned un-gettable as wickets fell constantly except those of Matt Harding 31* and Ethan Nikcevich 16.
U12-4: Healesville 3/134 defeated Coldstream 9/62
Healesville batted first and got off to a flyer with Ryder Hudson 26* and Louis Keath 17. Another 5 batters all retired (Kael Senti 2*, Ahren Wicker 3*, Arthur Coleman 16*, Angus Morcombe 14*, Manny Winrow 13*, Ben Hunter 7*). Posting a high score, Healesville were in the box seat. Ben Hunter and Louis Keath both got 2 wickets as they kept Coldstream to 62 runs.
U12-9: Healesville 5/81 defeated by Mooroolbark 8/122
Playing away, Healesville batted first and got off to a great start with Reggie Morcombe 16* and Arlo Turner 11* putting on a good opening partnership. Mason Kincaid 6*, Rory Jackson-Ward 2* and Eli Keath 7* all batted well and reached retirement. Mooroolbark batted well and passed Healesville's score but Healesville still took 8 wickets across 6 bowlers, with Eli Keath and Rory Jackson-Ward getting 2 each.
U14-3: Healesville won by Forfeit
U14-7: Healesville 3/128 defeated Chirnside Park 43
Healesville batted first at Queens Park with multiple batters reaching double figures (Tom Quaggin 10*, Harry Thomas 15*, Summer Caldicott 28*, Manny Winrow 21*). Posting a match-winning score, Chirnside Park was never in the game as the bowlers were all economical whilst taking wickets continuously with Taylor Caldicott 2/5 and Kael Senti 2/1 the multiple wicket takers.
U16-4: Healesville 8/89 defeated by Norwood 3/135
Norwood batted first and Healesville battled to get wickets as Norwood scored steadily to reach 135 from their 25 overs. Healesville's innings was a little different, losing wickets early however the middle order showed resilience with Lucas Frazzetto 20*, Cooper Bell 11, Gabe Houlihan 13 however the total was too much in the end as they fell short.
Seniors 1st XI: Healesville 154 defeated by East Ringwood 5/178
Both teams were undefeated going into the game as Healesville won the toss and sent East Ringwood into bat. Mitch Tampaline captured an early wicket but East Ringwood got to work and put on 100+ runs before Healesville captured another wicket. Kris Anderson bowling his off-spin claimed 3/30. Chasing 178, 4 of Healesville's top 5 batters didn't make it to 10 so it was backs up against the wall batting from there. Ash Hamer 38 and Luck Chandler 21 got the innings back on track but both went out as Healesville were beginning to look a chance. A good partnership between Tom Handasyde 21* and Mitch Tampaline 25 gave the side hope but balls were running out. In the end, they fell short by 24 runs.
Seniors 2nd XI: Healesville 150 defeated by St Andrews 3/151
Playing on a fast Queens Park ground, Healesville were off to a flyer with Jonny Heywood 46 and Max Wallace 39 hitting plenty of boundaries. But when these two were dismissed a constant flow of wickets saw the side bowled out for 150. Early wickets were going to be the key and Darcy English got one in the second over with his first ball. St Andrews' top order was solid and wickets were hard to get as they passed Healesville's score in the 30th over.
Seniors 3rd XI: Healesville 8/167 defeated by Kilsyth 4/212
On a small ground, Kilsyth batted first. Jack Drummond claimed an early wicket but that's where the fun stopped for Healesville as Kilsyth piled on the runs to post 212 off 36 overs. Healesville's innings didn't start well with Matt Wilkinson bowled out with the first ball of the innings. A quick-fire 43 from 'Don' Braden and steady innings from Gabe Houlihan 35 and Sam Drummond 43* ensured Healesville batted the overs but the run chase was too high.