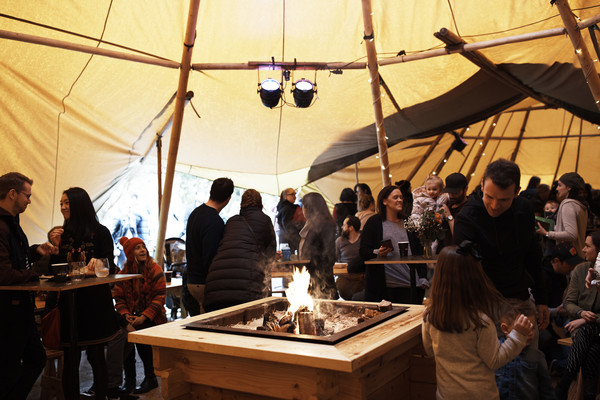 Healesville Sanctuary is putting on a devilishly good weekend this winter.
The zoo's Wine and Wildlife celebration is back with an even bigger event space offering food, drinks and entertainment across the entire Queen's Birthday long weekend.
Proceeds from ticket sales help Zoos Victoria save the endangered Tasmanian devil from extinction.
Visitors can sample and buy local wine, craft beer and cider from 11am to 4pm each day from 8 to 10 June, as well as gourmet food offerings, all set among the sanctuary's bushland backdrop.
Live music and entertainment will set the mood, while open fires and a pop-up gin and mulled wine bar will keep visitors warm.
Visitors can take the opportunity to wander the sanctuary's natural bushland paths and experience the magic of its native wildlife, including the Tasmanian devil.
Within the Wine and Wildlife zone, a double tepee will be set up to give visitors a cosy place to hang out and enjoy the wine, music and food by an open fire.
The sanctuary has teamed up with Harvest Cafe to cater, along with local purveyor K and B, which will have some of its most famous tasty treats including beef bourguignon, gourmet pies, barbecue ribs, burgers and sausages.
The steamed corn bar will have corn on the cob and truffle salt pretzels for visitors to try.
Visitors can enjoy a mulled wine or Four Pillars gin from the Healesville Hotel pop-up bar while listening to smooth sounds from an acoustic duo, or show their hops expertise in the Detour Beer Co Beer Garden.
The team at Detour promise to provide cleansing ales and a fun atmosphere under festoon lighting.
Yering Gorge Cottages will host mini golf and there'll be bubble play and mega lawn games for kids.
Wine and Wildlife costs $49, including entry to Healesville Sanctuary. Visit www.zoo.org.au/wineandwildlife.