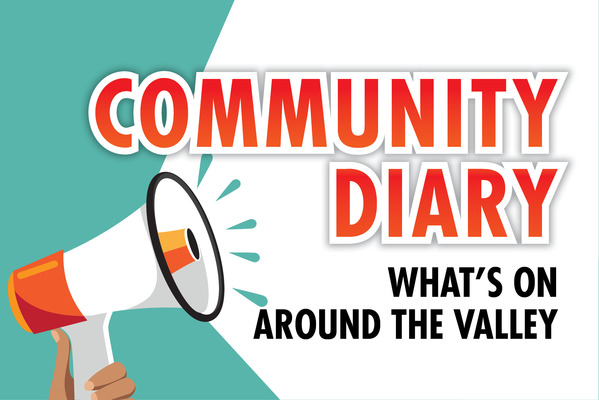 Badger Creek planting
Join Landcare members to revegetate the banks of Badger Creek near Healesville Sanctuary on Sunday 19 May from 10am to noon.
Participants should bring their own gloves and leave pets at home.
Morning tea will be provided and parking is available on-site at the corner of Badger Creek Road and Bluegum Drive.
RSVP to Karen for catering on 5962 5115.
Pelvic health exercise
Jen Vardy, women's and men's health physiotherapist from Dandenong Ranges Physio, will be presenting Pelvic Health and Exercise – a free and informal session on pelvic floor exercises, common misconceptions and continence – on Monday 20 May at 1.30pm in the Mount Evelyn Community House.
To register, call Dandenong Ranges Physio on 9751 0400 or email info@drphysio.com.au.
Pub night
Tourism Network Yarra Valley (TNYV) is holding the May Pub Night at Watts River Brewing, Healesville, on Friday 24 May.
Join the group between 6pm and 7pm for ales and wine at bar prices and platters provided by TNYV.
Guests can network with the committee and other members in the heart of the working brewery, enjoy pizza and listen to the local talent playing tunes throughout the evening.
RSVP to info@tourismnetworkyarravalley.com.au by Tuesday 21 May.
30th anniversary
On Saturday 25 May the Friends of the Helmeted Honeyeater are celebrating 30 years of working to secure the future of the critically-endangered helmeted honeyeater.
From just 50 birds in the wild five years ago to more than 200 birds today, a symposium is being held from 8.30am to 4.30pm in the Lilydale Senior Citizens Centre, 7 Hardy Street Lilydale and will include keynote speakers Zoos Victoria CEO Dr Jenny Gray and Dr Sally Box, federal threatened species commissioner.
Everyone is welcome. Bookings are necessary through trybooking.com/BAYKA.
Lookout for the Safety of Children Group
The Lookout for the Safety of Children Group and St Brigid's Parish will be presenting a forum to discuss the impact of child sexual abuse and pathways to healing on Sunday 26 May from 2pm to 4pm at St Brigid's Parish Hall, 15 High Street, Healesville.
The panel will include a psychologist, a social worker and a police representative.
VIEW lunch
The next Yarra Valley VIEW Club lunch will be held on Tuesday 28 May at Yering Meadows Golf Club at 12 noon. Bookings are essential. Call Wendy on 0438 625 556.
Australia's Biggest Morning Tea
Support Australia's Biggest Morning Tea at St Brigid's Church Hall, 15 High Street, Healesville, at 10am on Thursday 30 May.
The fund-raiser will support those affected by cancer, celebrate the lives of those passed and support those still fighting.
The $5 entrance fee includes a cuppa and morning tea. Inquiries: 0417 087 199.
Probus
The Healesville Ladies Probus Club meets every third Friday of the month at 10am in the Senior Citizens Hall.
Guests can enjoy making new friends who will enrich their life in retirement.
There's no fund-raising involved and new members will be made very welcome. Call secretary Nancy Closter on 5962 3713.
Reach out
Is there a free or low-cost community event you'd like to share with our readers? Send an email to editor@mailnewsgroup.com.au by 5pm on Wednesdays for inclusion in the following week's edition.