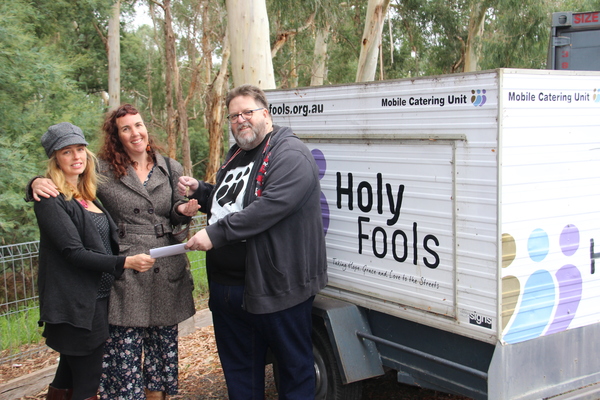 By Jed Lanyon
Lilydale-based charity group Holy Fools has kindly donated their trailer to Yarra Valley ECOSS to use for their Wash Against Waste kit on Thursday 9 May.
The Wash Against Waste kit is available to the community for hire to help prevent the over use of plastic and paper plates, bowls, cups and cutlery that are not disposed of properly and end up in landfill.
ECOSS plans to re-purpose the trailer to house the kit and make it mobile and applicable for festivals.
Executive Officer for ECOSS Chelsea McNab was thankful for Holy Fools' donation and welcomed two not-for-profit organisations looking after each other.
"We needed to upgrade the kit and now it will be more accessible," she said.
Ms McNab said that loaning out the kit had been a challenge as people would need a trailer to pick it up and would sometimes return their boxes damaged.
"We have been loaning the kit out for festivals and events for years now, and the demands for it are increasing," Ms McNab said.
Holy Fools received a new trailer recently and committed to donate their old trailer to ECOSS.
However, thieves stole Holy Fools' new trailer on Anzac Day, including a barbecue and supplies.
Despite this, Holy Fools CEO Neal Taylor followed through with his agreement to handover the trailer to Yarra Valley ECOSS.
"I just felt that it was the right thing to do. We had outgrown the trailer anyway so we wanted to make sure it would be put to a better use," Mr Taylor said.
"The trailer was donated to us in the first place, so we thought it would be nice to pass it on."
Ms McNab explained just how beneficial the Wash Against Waste kit is at reducing unnecessary landfill.
"This year, approximately 3000 people ate lunch at Ecotopia.
"And because we had supplied the Wash Against Waste kit and ensured all the vendors used it, the only land fill that came out of that day was less than that of a standard plastic bag," she said.