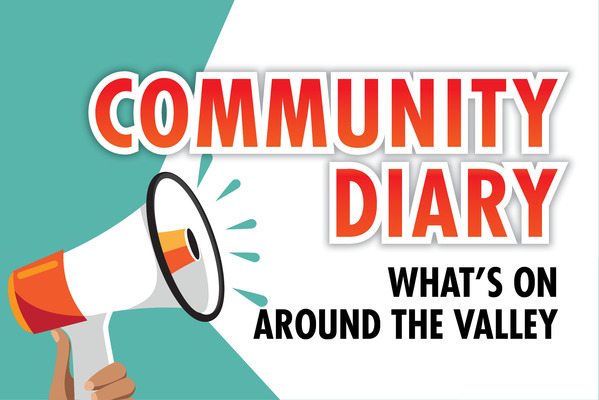 Spinners and weavers
Healesville Spinners and Weavers Group has its members' talents on display at the Healesville Library for the month of August. Members of the group will be at the library demonstrating their skills on Tuesday 27 August at 1pm. Visitors are invited to bring their craft project along and join the group for the afternoon.
Healesville CoRE
Healesville Community Renewable Energy Inc invites all community members to its AGM on Sunday 25 August at 2.30pm at Healesville Uniting Church, where two guest speakers will provide an update on the feasibility study for a Healesville solar farm and other council renewable energy initiatives. Inquiries: www.healesvillecore.org.au/upcoming-events.
Secrets of prophecy
A free seminar series Secrets of Prophecy started on 3 August at the Redwood Community Centre, 3505 Warburton Highway, Warburton, and will continue throughout the month of August. Archeologist Gary Kent, speaker and director of The Incredible Journey, will be presenting live. The sessions will run on Saturday and Sunday afternoons Inquiries: 0424 002 551
Writers and rhythm
Heartfelt music, stories and supper will warm guests at the next Writers and Rhythm night on Friday 23 August at the Healesville Uniting Church at 7.30pm. The event will celebrate local writers and musicians, Ian Harris, SASS, Sandy Jeffs and the Robbie Greig Trio. Tickets at the door.
HICCI 30th birthday
HICCI is inviting the public to its 2019 annual general meeting at Healesville Uniting Church on Sunday 25 August at 6.30pm. The event coincides with HICCI's 30th birthday. Inquiries: 5911 6000
Lunch with a VIEW
The next Yarra Valley VIEW Club lunch will take place at the Yering Meadows Golf Club at noon on Tuesday 27 August. Inquiries: 0419 007 728
Lighthouse Grand Prix
The Lighthouse Grand Prix veterans race is on at the Liberty Family Church for past members of the Lighthouse Club and friends. The event will take place on 31 August at 1pm. Inquiries: 0419 506 200
Ladies tennis
Seville Tennis Club is hosting a Ladies Fun Tennis Day on Tuesday 3 September from 9.45am. The event suits all ages and abilities with morning tea and lunch provided. Cost is $5 with no booking necessary. Inquiries: 9758 7505
Sun Festival
Yarra Valley Ecoss has opened up stall applications for this year's Sun Festival on 21 September. Visit www.ecoss.org.au to apply. The last round of applications closes on 16 September.
Probus welcome
The Valley Ladies of Healesville Probus Club meets every third Monday of the month at 11am in the seniors club rooms at River Street, Healesville. Probus clubs are for semi or retired people looking to keep their minds active and expand their interests. Inquiries: 5962 1890.
Badger Community Meeting
Badger Community Group meets on the first Tuesday of every month from 4pm to 5.15pm at the Badger Creek Old School. Local people work together to make Badger Creek even better. All welcome.
Probus ladies
The Healesville Ladies Probus Club meets every third Friday of the month at 10am in the Senior Citizens Hall. Attendees can enjoy making new friends who will enrich their life in retirement. There's no fund-raising involved and new members will be made very welcome. Inquiries: 5962 3713.
Community choir
Those who love to sing can join the friendly locals singing their hearts out at the new Healesville Community Choir on the first and third weeks of the month at Healesville High School at 7pm. Inquiries: 0417 904 862.
Bingo and social activities
Healesville Senior Citizens Club is seeking senior members of the public who would be interested in meeting new people to come along and join their activities. Bingo is held every Friday afternoon from 1pm to 3.30pm and general club meetings are held on the fourth Tuesday of every month, featuring lunch and entertainment. Inquiries: 5962 1550.
Probus for men
Join the Men's Probus Club of Healesville at St Bridget's Hall at 9.30am on 22 August to hear guest speaker Graham Webber talk about nuclear energy. Inquiries: 0409 030 750.
Grieving parent support
In support with Compassionate Friends of Victoria, a social luncheon group meets in Healesville on the third Wednesday of each month for parents who have lost a child. Inquiries: 5962 3287.
Reach out
Is there a free or low-cost community event you'd like to share with our readers? Send an email to editor@mailnewsgroup.com.au by 5pm on Wednesdays for inclusio