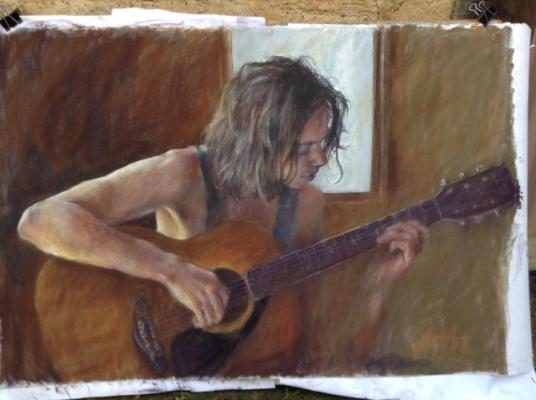 Chum Creek artist Janet Hayes was taught by one of the world's top pastellists, the late Daniel Greene, former instructor of painting at the National Academy of Design and the Art Students League of New York.
Ms Hayes credits the master pastellist with "flicking on a light bulb" in her regarding the use of colour and tone.
"He did an exercise about portraiture and suddenly I could see colour I'd never even imagined," she said.
The lineage of Mr Greene's teachers stretch back to Paul Cezanne.
But despite acknowledging her time with Mr Greene as a turning point, Hayes opted not to adopt his teaching style; instead evolving her own technique, which her students say is unique in its ability to foster the inner artist.
"I describe myself as a very gentle teacher. Rigidity kills individuality and creativity, which is the basis of art. I aim to impart skills that enable my students to cultivate their vision and bring it to fruition.
"Daniel Greene was very tough-minded on what he expected us to produce. His style was very formulaic. When I teach I want people to express what they feel. I don't want to produce carbon copies of myself," she said.
"Everyone is different so if I see someone doing something different to what I have asked I will encourage them because they're injecting themselves into their art."
Ms Hayes, a multi award-winning artist, who has a reputation as a great colourist and whose preferred medium is pastels because the colours are so true, confesses she has to deal with well meaning friends offering advice to switch permanently to oils because "it sells".
"I tell them, actually you're wrong. I need to do what comes from me," she said.
"The real magic happens when you stay true to yourself, which is what I say to my students.
"Everyone can paint. The magic is that everyone does it differently because we all see life through our own prism."
Ms Hayes is currently exhibiting at Healesville's Malka Studio, and holding a watercolour class there on June 17, pending Covid restrictions.
"In the past I've been exhibited at well-known Melbourne and international galleries.
"Choosing Malka Studio is part of re-launching myself as a full time artist and about authenticity and being unique and being part of the local community I live in, which personifies unique and authentic."