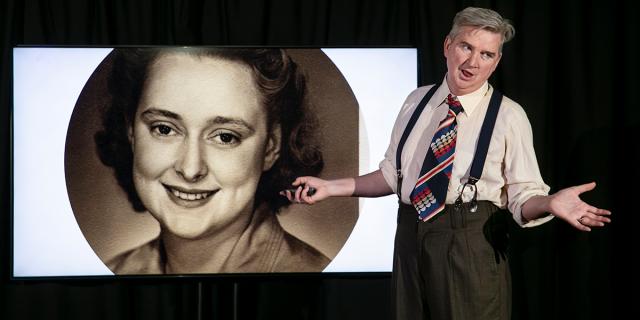 By Callum Ludwig
Comedian, actor and writer Damian Callinan is bringing his show Double Feature to Warburton and Upwey.
The show, a comedic, romantic and heartbreaking presentation of Mr Callinan's mother's 1946 rediscovered diary and his father's extensive collection of retirement journals, is coming to the Warburton Arts Centre and Burrinja Cultural Centre this month.
Mr Callinan said his Mum's diary was only discovered on the night of his Dad's funeral after they had both died.
"Being able to access all these memories of their courtship and hearing our mum's 19-year-old voice was a pretty special find, I kind of knew as soon as we discovered it that I would like to do something with it one day," he said.
"We found it hidden in a box with my Dad's retirement diaries, he had 23 volumes and while he was an interesting guy, he was a school teacher turned principal, he was a war veteran, a gifted sportsman and an amateur actor but he diarised every part of his life in excruciating detail,"
"There was no separation of importance between subjects, a typical entry might read: 'Went to Hades Hot Bread Kitchen and bought two baguettes, a flood devastated Armenia killing thousands, Damian came to remove the leaves, Sister Fran had a hysterectomy'."
Mr Callinan opens the show as if it's a showing of an old-timey film before he enters the stage and declares that he 'ran out of money to make the film' and offers to pitch the story instead.
Mr Callinan said there was almost too much source material and you would need a team of 25 university researchers to get through all the great stories.
"I try to keep the dramatic tension, Mum was incredibly popular, she had about six or seven guys on the go, which we didn't know about, so I run a book on the show and keep changing the odds depending on the various suitors and what the do," he said.
"Dad gets introduced quite late and we don't find out until the end what his name is and who he ended up with."
Mr Callinan's show in Warburton is at 2pm on Wednesday 25 October and at 7.30pm on Thursday 26 October at Burrinja.
Mr Callinan said while most of his shows consist of created stories, but he had sone biographical shows like Double Feature before.
"It's quite surprising because my initial reaction or reluctance to do it everytime is 'Who cares about my story?' not that it's indulgent, but what happens is that people see their own stories in your story," he said.
"People invade the stage afterwards, and they just want to talk about how they've just lost their own parents, or there's grief that they're dealing with, there's a lot of parallels and relatable experiences."
While the show is largely comedic, Mr Callinan doesn't shy away from his mother's tragic death; she was accidentally run over by his father.
Mr Callinan said she was in a coma for nearly a week before she died.
"I hadn't realised when I started writing the show that Dad had diarised that week, each day he'd written an entry about what he was going through, it was incredibly revealing and really sad to read," he said.
"That's why the discovery of Mum's diary was so important to us, because in a sense we hadn't as a family been able to properly grieve Mum, because we'd been holding Dad together for almost a decade between their deaths,"
"It's like a way of reclaiming their lives because their accident was so tragic and is what a lot of people remember, I don't swerve around the tragedy in the show, but at the end, I then take it back to the Hollywood romance, reveal their first night together and all the soppy romantic stuff so it's just really nice to tell their story."
For more information or to buy tickets, go to: www.yarraranges.vic.gov.au/Experience/Events/Double-Feature-by-Damian-Callinan for the Warburton show or https://boxoffice.burrinja.org.au/WebPages/EntaWebShow/ShowCalendar.aspx for the Upwey show.