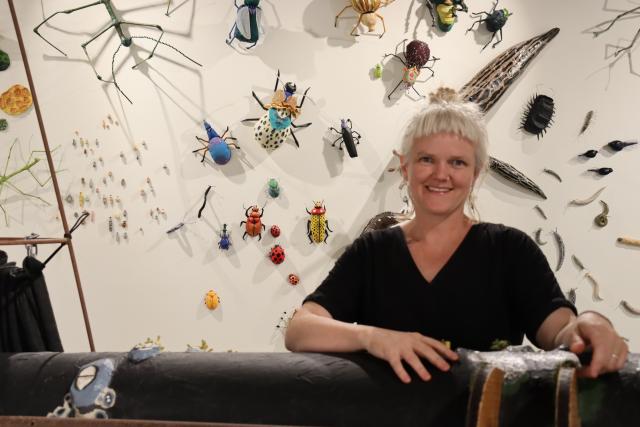 By Mikayla van Loon
Delving into the paradoxical world of art and science, artist Clare James brings to life the creative essence of nature in her newest exhibition 'Wonderscope'.
Hosted by the Yarra Ranges Regional Museum in Lilydale, launching for the September school holidays, James said she was asked to create a "family focused" event, designed with tangible elements that was "engaging for all ages".
"I wanted a tactile exhibition and I suppose I wanted the kind of exhibition that I like to go and see where there's little worlds to look into," she said.
"Celebrating nature and the wonder and amazement that I have being in nature and immersing myself in nature but then the beautiful fluid relationship between science and nature."
The biggest feature of the exhibition is the kaleidoscope, something James said she'd always had a desire to make.
"I wanted something little kids could climb onto because the more you put your head into it and turn, the better it is.
"It's really all encompassing and this eternal like it just keeps splitting and splitting. If you want to find a sense of wonder in anyone, even the most boring adult could put their face up to a kaleidoscope and everyone who comes in is like, whoa, that's wonder."
Pairing the kaleidoscope with intricately hand painted critters and insects, aquariums and terrariums, as well as a replica of James' studio, it's like taking a step into her realm of wonder.
"I wanted to show kids one side of art that is also the everyday, so that's what my studio looks like and my imagination."
Often describing herself as "right on the cusp" of both science and art, James said it's very much a "fascination and a reverence for nature" for her rather than data driven.
"Both scientists and artists are often asking questions. If I look deeper or closer at something, I find my sense of wonder is always very close to the surface, I can have my mind blown really easily by just looking under a microscope," she said.
It was drawing these two ideas together that led to the name 'Wonderscope', to look at something more broadly but also hone in on smaller details.
Since the launch of the exhibition, James said over 1500 people have been to experience the wonder, with two months left to witness the joy.
'Wonderscope' is located in The Box gallery within the Yarra Ranges Regional Museum at 35-37 Castella Street Lilydale.
See the exhibition until its closing date on Sunday 10 December from Wednesday to Sunday 12pm – 4pm.