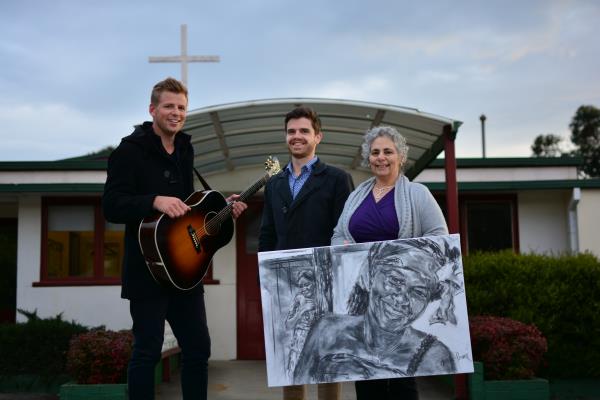 By JESSE GRAHAM
A WEEKEND of music, movies and art will be held at Healesville's Liberty Family Church next week, as part of a special 40 Hour Famine fund-raiser.
The church will be running a weekend-long event to raise money for World Vision's 40 Hour Famine, beginning on Friday 15 August at 7.30pm with a performance by Healesville resident, Levi McGrath.
Charcoal paintings by Christine Cafarella-Pearce will also be exhibited on the Friday night and Saturday, with all of the artworks being sold off in a silent auction.
Kids will be well-catered for over the weekend, with a special screening of The Lego Movie on Saturday 16 August from 6.30-9pm – entry is a gold coin donation.
On Sunday, a morning church service will mark the end of the 40 Hour Famine, and Community Associate at Liberty Family Church, Joel Hawting, is urging participants to come along and break the fast together.
"There'll be a lunch, where everyone breaks the fast together to celebrate," he said.
Mr Hawting said the weekend of events was a way for the community to rally behind World Vision and its causes, while still enjoying quality entertainment.
"The idea is that it can be a way for people to support the cause, while engaging with the broader issues through song and through art," he said.
The initiative behind this year's 40 Hour Famine events is Justice: More than a Word (JMTAW), and Mr Hawting said all proceeds from the silent auction and the movie night would go to World Vision's overseas projects.
"It's more than just saying 'we value justice', it's a practical way of coming together and having the opportunity to check out a free concert as well," he said.
"Come along and join us as we make a stand against poverty in the world."
The 40 Hour Famine fundraising events begin on Friday 15 August, with a concert, art exhibition and silent auction from 7.30pm-9.30pm.
The art exhibition will continue on Saturday 16 August, before a screening of The Lego Movie at 6.30pm.
A church service on Sunday 17 August from 10am will mark the end to the 40 Hour Famine, with a lunch event to be held afterwards.
Liberty Family Church is located at 1 Lilydale Road, Healesville. For more information, contact Joel Hawting on 5962 2206 or email joel@libertyfamilychurch.net.au.