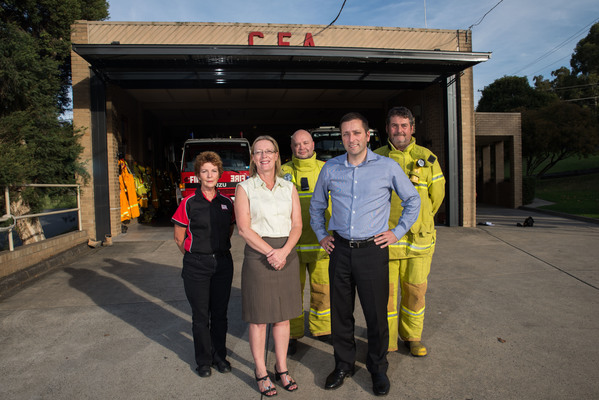 By JESSE GRAHAM
VICTORIAN OPPOSITION Leader Matthew Guy is lobbying the State Government to come through with funding for a new fire station in Healesville, with the current station ill-equipped for the brigade.
Mr Guy visited the Healesville station on Wednesday 20 April with Eildon MP Cindy McLeish and CFA captain Graeme Bates to inspect the site.
The visit followed another by former-Premier Denis Napthine in the lead-up to the 2014 Victorian Election – Dr Napthine then pledged $1.75 million for a new station, should the Coalition win government.
Mr Guy reiterated the Coalition's commitment to getting a new station underway, and called on the Andrews Government to fund it in its coming 2016/17 Budget.
"I'm hoping in … this budget, they follow through what previous governments had committed to, and that is moving the CFA to a more reasonable location," he said.
He said that, if the government did not find funding before the next State Election, he would make the station an election issue.
The MPs were led through the station by Capt Bates, who explained that, without changerooms, firefighters had to put on their gear next to trucks, which often covered them in diesel fumes.
The station also barely fit all of the brigade's trucks, which have to be backed in – and leaving requires the trucks to back and turn onto a busy road.
"The road is a real hassle," he said.
"All the big boats are taking shortcuts, rather than coming through the street – (they) rocket down the hill."
Capt Bates said procedures required the brigade to have a guide when backing trucks out, but that he was concerned for the safety of his firefighters, should a car come around the blind corner.
Ms McLeish said she had made a speech in Parliament on Tuesday 12 April calling on Emergency Services Minister Jane Garrett to put funding forward for a new station.
But neither Ms McLeish nor Capt Bates said they had heard anything from the government about potential funding.
"It needs to happen, because finding a new location is tricky – it's not going to be easy, 'We're going to do it and there's a location ready', there's a lag time there," she said.
"You need to make the commitment quickly – there is not an inch for it to be extended."
A Victorian Government spokesperson said the government was "making one of the biggest ever investments in our fire services", with new stations and more firefighters, among other initiatives.
However, the spokesperson did not confirm or deny that the government would put money forward for a new Healesville station.
"Future government investment decisions will be guided by the CFA's key operational priorities," they said.
The Budget will be handed down next Wednesday.